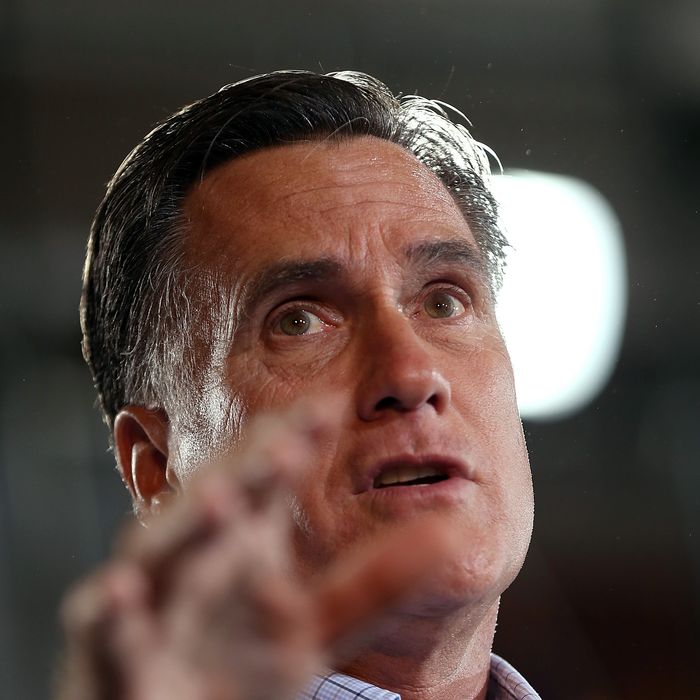 Photo: Justin Sullivan/2012 Getty Images
You know the woman in the Priorities USA ad, the one who Mitt Romney sorta-kinda-indirectly-eventually killed? Her husband was laid off by a Bain-controlled firm in 2001, when Romney was technically in charge of the firm but not making day-to-day decisions. She still had health care through her job, but then she lost it, and — with both spouses having lost their insurance — got sick and died. Intel Dan calls the ad a lie. I'd call it an extremely tenuous chain of causality.
Romney spokesperson Andrea Saul offered up a different rebuttal. She would have had health insurance, if she had lived in Massachusetts:
"To that point, if people had been in Massachusetts, under Governor Romney's health care plan, they would have had health care," Andrea Saul, Romney's campaign press secretary, said during an appearance on Fox News. "There are a lot of people losing their jobs and losing their health care in President [Barack] Obama's economy."
Conservatives are already freaking out here. (Erick Erickson: "OMG. This might just be the moment Mitt Romney lost the election.") I don't quite understand why this is so politically damaging for Romney, or even damaging at all. The existence of Romneycare is not a secret. Romney is already running on a plan of repealing Obamacare, and not offering a replacement or setting aside any resources to fund insurance for people who can't afford it on their own. So, the comment is a weird non-sequitur, but what's the political downside here? Romney has already figured, probably correctly, that he can run on a plan of telling every non-Massachusetts resident lacking health insurance to go hang.