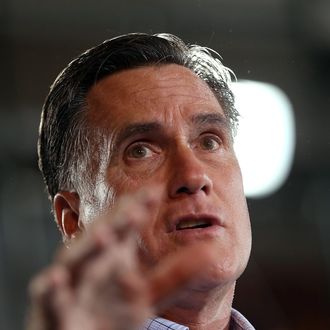 Romney today. (Justin Sullivan/Getty Images)
Photo: Justin Sullivan/2012 Getty Images
Over the last few days, Harry Reid has been shopping around an explanation for Mitt Romney's refusal to release more than two years' worth of tax returns: According to the Senate Majority leader, "a number" of anonymous — but not imaginary — people have told him that the Republican candidate did not pay taxes for ten years. Unsurprisingly, Romney's people have strenuously denied the claims, with adviser Eric Fehrnstrom comparing Reid to Joe McCarthy earlier today. On Thursday afternoon, Romney himself appeared on Sean Hannity's radio show to address the situation: 
"Well, it's time for Harry to put up or shut up. Harry's going to have to describe who it is he spoke with because of course, that's totally and completely wrong," Romney told Hannity in a radio interview. "It's untrue, dishonest, and inaccurate. It's wrong. So I'm looking forward to have Harry reveal his sources and we'll probably find out it's the White House."
So far, Reid has declined to "put up" anything, but he's also not backing down. In a statement released by his office, Reid called his sources "extremely credible" and focused on Romney's tendency to "shut up" when it comes to "answering the legitimate questions the American people have about whether he avoided paying his fair share in taxes or why he opened a Swiss bank account." He went to say that, "It's clear Romney is hiding something, and the American people deserve to know what it is … There is only one thing he can do to clear this up, and that's release his tax returns."
Indeed, while Reid's accusation does sound too extreme to be true, it's definitely not going to discourage anyone from asking why Romney is so committed to keeping his tax returns under wraps. The one thing we know for sure is that these stories are going to keep coming, because for Romney's political enemies, it's just too easy.