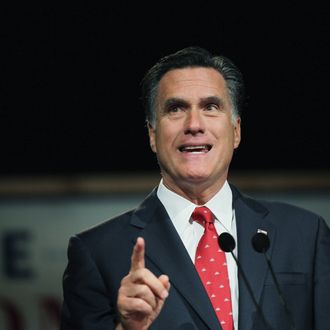 Photo: Scott Olson/Getty Images2012 Getty Images
At first the Romney campaign was angry that NBC, ABC, and CBS consider reruns more entertaining than Ann Romney's Monday night speech, but the Republicans have found a way to use the lack of coverage to their advantage. The New York Times reports that while a candidate is traditionally nominated on the second-to-last night of the convention, the roll call has been moved to the first night of the Republican National Convention due to concerns about when Tropical Storm Isaac might hit, and potentially rowdy Ron Paul delegates.
For the most part, Paul supporters have been appeased through a serious of deals and behind-the-scenes concessions, but Politico reports that there could still be some loose cannons looking to make a scene on the convention floor. Romney will still deliver his acceptance speech on Thursday, but the organizers hope that doing the roll call, which is just a formality, on Monday will cut down on the coverage should there be an incident. If there is an embarrassing outburst on Monday night, the Republicans will just have to hope that the networks don't have some device that would allow them to capture it and replay it constantly for the duration of the convention.