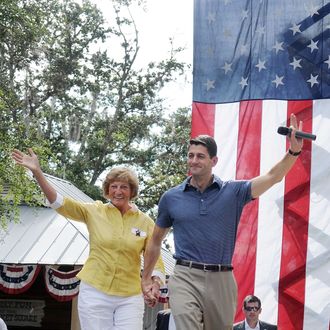 Mother and son in Florida. (Gerardo Mora/Getty Images)
Photo: Gerardo Mora/2012 Getty Images
Earlier today, Paul Ryan made a very special Florida campaign stop aimed at convincing retirees that he and Mitt Romney do not intend to take away their Medicare. It's a tough task, so it's a good thing that his mom, 78-year-old Betty Ryan Douglas, was on hand to lend some support. With Douglas at his side, the vice-presidential candidate appeared in front of a crowd of about 3,000 senior citizens at the Villages —  billed as both the world's largest retirement community and "Disneyland for older people" — and gave a 20-minute speech about Medicare, which he described as "a promise that must be kept" for those who are in or nearing retirement. And, because it was Bring Your Mother to Work Day and all, he told some humanizing stories about his family's experience with the government's health insurance program.
As a MoveOn.org-sponsored plane trailing a banner reading, "Paul Ryan, Keep Your Hands Off Our Medicare" flew overhead, Ryan told the audience that, "like a lot of Americans, when I think about Medicare, it's not just a program. It's not just a bunch of numbers. It's what my mom relies on. It's what my grandma had."
Ryan also spoke for the first time on the trail about his grandmother, who he said had advanced Alzheimer's disease and had moved in with him and his mother while Ryan was in high school. "You learn a lot about life" when a relative falls ill, he said.

"Medicare was there for our family, for my grandma, when we needed it then, and Medicare is there for my mom while she needs it now, and we have to keep that guarantee," he said to applause.
Ryan did not, however, talk too much about what the Republican ticket has planned for the under-55 set. (That wasn't a problem for one selfish senior, who told the Washington Post, "I personally like [Ryan's] plan, because at 73, it really wouldn't affect me.") Instead, he focused on attacking President Obama's handling of Medicare, accusing him of "raiding" the program's trust fund in the form of the Affordable Care Act's $716 billion in Medicare savings measures, which are expected to extend Medicare's solvency for an additional eight years. Ryan also criticized the Medicare Independent Payment Advisory Board as a crew of "15 unelected, unaccountable bureaucrats" — a more polite description than his predecessor Sarah Palin's 2008 "death panel" label.
Ryan also praised his mother's decision to return to college and become an interior decorator after the death of his father, which would have been a little cuter without the "you didn't build that" attack ad reference that followed. "Mom, I am proud of you for going out and getting another degree," he said. "I am proud of you for the small business that you created and mom, you did build that." That particular line was reportedly greeted with much more enthusiasm than anything he had to say about health care.
The Obama campaign responded to the appearance with a statement accusing Ryan of avoiding the "politically 'suicidal'" details of his Medicare plan. Not in front of his mom, guys. And certainly not in front of a bunch of swing state residents.