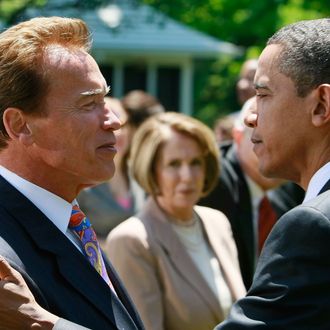 US President Barack Obama (R) greets California Gov. Arnold Schwarzenegger (R-CA) (L) during a press conference announcing fuel efficiency standards in the Rose Garden of the White House May 19, 2009 in Washington, DC. Today President Obama announced a new national fuel and emission standards program for cars and trucks with the intention of cutting vehicle carbon emissions and raise mileage by 30 percent.
Photo: Mark Wilson/Getty Images
According to the Wall Street Journal, this took place around January 2011, as Schwarzenegger was leaving office as governor. It's not clear why the plan was terminated, but that May, Schwarzenegger admitted to fathering a child with his nanny. Bullet: dodged.