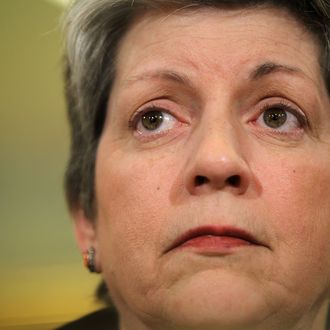 Janet Napolitano.
Photo: Alex Wong/Getty Images
Following yesterday's reports of Immigration and Customs Enforcement employee James Hayes Jr.'s reserve-sexism lawsuit against Homeland Security Secretary Janet Napolitano, the New York Post has learned that a second male employee, Jason Mount, filed a similar suit in July. Unlike Hayes, Mount makes no allegations of sexual harassment, but he does complain of gender discrimination at the department, where he claims he was refused an office and subject to "dozens of incidents in which he was allegedly passed over for promotions despite being fully qualified."
Like Hayes, who claims he was passed over for a promotion by Napolitano owing to his gender (in favor of Dora Schriro, with whom Napolitano "enjoyed a longstanding relationship"), Mr. Mount alleges that, despite receiving a perfect evaluation, his gender prevented him from acquiring a post with Homeland Security Investigations in Boston. Instead, the job went to Linda Hunt, though she had lower status on the federal civil-service pay scale and lacked some specific experience that the position requires. In order to escape what he considered a hostile work atmosphere, Mount felt he had to ask to be reassigned, voluntarily taking a demotion in pay and responsibility that he described as "career suicide." Mount is suing for around $300,000 — a tenth of the $3 million Hayes is seeking.
While Napolitano has remained silent and ICE won't comment on this latest case, a federal official did comment on the Hayes case, saying his allegations "do not align with the fact that Mr. Hayes has routinely held high-ranking assignments, including his current position as special agent in charge of ICE's second-largest field office."