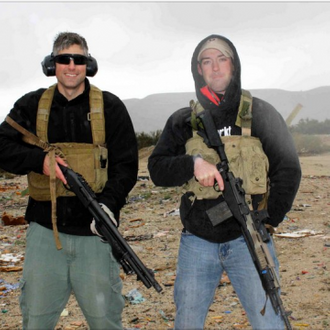 Rep. Todd Akin's bizarre theory on female biology has sparked another controversy across the country in Washington state, but unlike Akin, State Senator and U.S. Senate candidate Michael Baumgartner no longer feels that he used the "wrong words in the wrong way." Late on Monday night after an interview with the blog Publicola on Akin's remarks, Baumgartner e-mailed the reporter, seemingly with little provocation, and told him to "go f*ck yourself." On Tuesday afternoon he issued an apology, but then announced that he's standing by his profane command.
According to Publicola's Josh Feit, he asked Baumgartner about his views on Akin's comments, as he's also opposed to allowing abortions in cases of rape. Baumgartner mentioned that he was frustrated that the abortion issue is getting more play than ending the war in Afghanistan, which Feit noted in his piece. A few hours later, he received an e-mail from Baumgartner that included a photo of the candidate and another man holding guns. The message said, "Josh, this is Pat Feeks, a Navy SEAL killed last week in Afghanistan. Take a good look and then go fuck yourself."
Baumgartner has done diplomatic work in Iraq in Afghanistan, and his friend Feeks was killed in Afghanistan last week in a helicopter crash.
After Feit published the e-mail, Baumgartner's office sent out a statement in which he was quoted as saying, "I apologize to Josh for my strong language." It explained that ending the war has been a "cornerstone" of Baumgartner's campaign, but "many media outlets, including Publicola, do not want to talk about why these men and women continue to be killed."
A few hours later, Baumgartner, who's been struggling against Maria Cantwell, decided sticking to his roguish use of profanity was a better strategy and explained that the statement was sent out by his staff without his approval. He said in an interview with local TV station KIRO 7:
The issue here isn't whether a bad word was said or was not. Maybe that angers some people, maybe it doesn't. Trust me, the guy had it coming. The issue here is the ongoing war in Afghanistan and a complete lack of leadership for bringing that to a close.
Sure, the bad word helped draw attention to the story this time, but in general constructive criticism goes down better with more context and fewer obscenities.