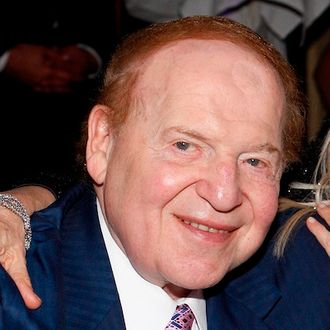 News program Democracy Now! has reported that the daughter of billionaire casino magnate and major GOP donor Sheldon Adelson grabbed a video camera from one of the show's producers and threw it on the ground at the Republican National Convention on Thursday. Tempers flared when senior producer Mike Burke attempted to interview Mr. Adelson as an aide wheeled him to his skybox at the Tampa Bay Times Forum. Burke asked him, "Your thoughts on the Romney-Ryan ticket?" Adelson mulled the question for a couple beats and said, "No comment." Then it went downhill.
"How much money you going to spend on this election?" Burke asked Adelson next. Here's Democracy Now!'s play-by-play of the ensuing moments:
ADELSON HANDLER: Guys, guys, hey!

ADELSON DAUGHTER: Get off me!

ADELSON HANDLER: Hey! Hey!

ADELSON DAUGHTER: Get off me! I'll hit you!

HANY MASSOUD: He's just walking.

MIKE BURKE: I did not touch her. She ran back into me. She just grabbed our camera! This woman grabbed our camera.
At that point, the camera shakes a bit and the sound drops. It's unclear if anyone with Democracy Now! touched Adelson's daughter. The scene begins at the ten-minute mark in the video.

"There was a reason we were trying to speak to him," Burke said later. "You know, he's pledged to spend as much as $100 million on this year's campaign in, you know, an attempt to defeat President Obama. And this is really one of the most significant figures post-Citizens United, where you can now spend unlimited amounts of money …"
Burke said an employee of Adelson's Las Vegas Sands Corporation identified the woman who took the camera as Adelson's daughter, and added that she apologized later.

Adelson has donated in the ballpark of $70 million to conservative super-PACs this election cycle and counting, a large chunk of it to pro-Romney group Restore Our Future.
Through Politico, a source close to the Adelson family gave Democracy Now! this disclaimer of wrongdoing, and sendoff: "We believe in free access by the press and access to people of interest, but in general, members of the press should not push, shove or force any physical contact with anyone in an effort to conduct an interview. We wish them the best in their continuing coverage of the event."