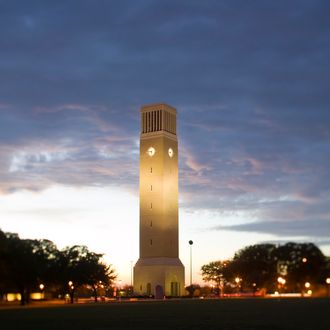 Albritton Tower on the campus of the Texas A&M University in College Station, Texas.
Photo: Wesley Hitt/Getty
At 1:29 p.m. Eastern time, a campus emergency alert from Texas A&M University warned of an "active shooter in the area immediately southeast of the intersection of Welborn Rd and George Bush Drive." By 1:44 p.m., an update declared that the "shooter is in custody." Local news station KBTX reports that "multiple casualties are involved" and that the suspect appears to have been "shooting from a house with automatic weapons." The Twitter account @911Buff has more information (albeit unconfirmed):
We'll update as more details become available.
Update: According to KCEN-TV, "Six people were shot. Two of these people were police officers."
Update II: An ear-witness reports 75 shots fired:
Update III: According to a news briefing by the police department, there have been "some injuries," including both law enforcement officers and civilians, although there was no confirmation for now on the severity of the injuries.
Update IV: According to KCEN, "Two people have died from the shooting. One was an officer identified as 41-year-old Brian Bachmann and the other was a male civilian who has not been identified yet."
Update V: The shooter is dead, according to the AP.
Update VI: KETK reports that "Deputy Bryan Bachmann was killed while serving an eviction notice on the shooter."