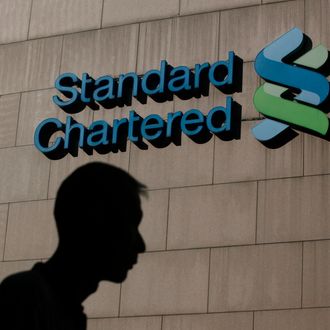 According to the New York State Department of Financial Services, Britain's Standard Chartered Bank has been quietly moving around some $250 billion in Iranian money for nearly a decade, including through its New York branch, in the face of U.S. sanctions. The "rogue institution" earned hundreds of millions of dollars in fees and "left the U.S. financial system vulnerable to terrorists, weapons dealers, drug kingpins and corrupt regimes," regulators said in a filing sent to the bank today. And when it was suggested that the shady dealing, which allegedly included "falsifying business records" and "obstructing governmental administration," wasn't such a good idea, a London executive cursed our puny rules outright.
This one comes directly from the filing, foul language and all:
Lest there be any doubt, SCB's obvious contempt for U.S. banking regulations was succinctly and unambiguously communicated by SCB's Group Executive Director in response. As quoted by an SCB New York branch officer, the Group Director caustically replied: "You f—ing Americans. Who are you to tell us, the rest of the world, that we're not going to deal with Iranians."
The transactions were reportedly hidden by wiping any mention of the Central Bank of Iran or other off-limits institutions, and with the full knowledge of upper management at SCB. In fact, a nine-month investigation into the bank's practices revealed a formal operating manual detailing just how to skirt around the sanctions called, "Quality Operating Procedure Iranian Bank Processing." Bold.
And it wasn't about playing authoritarian favorites so much as making piles of money anywhere there was an opening: The department said evidence points to "similar schemes" by SCB with sanctioned nations like Libya and Sudan.
As a result, the bank could lose its New York license, along with a bunch of transatlantic goodwill.