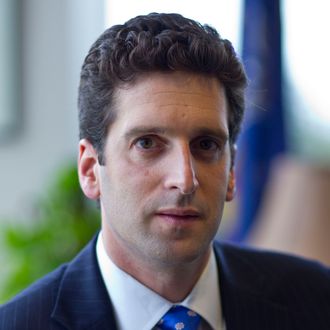 Attention Wall Street wrongdoers: This man will find you and hunt you down.
Photo: Jin Lee/Bloomberg via Getty Images
Standard Chartered, the British bank that was accused of concealing billions of dollars worth of illegal transactions involving the Iranian government, is paying the price of perfidy, and vindicating an upstart regulator who went after it with gusto.
The bank settled its case with the New York Department of Financial Services today, paying a $340 million fine and agreeing to bring in an outside watchdog to monitor the financial dealings in its New York branch for at least two years. 
Benjamin Lawsky, a former prosecutor who heads up the New York agency, is seen as something of a cowboy in the world of Wall Street crime-busting. Last week, when Lawsky leapfrogged other regulators and accused Standard Charter of laundering $250 billion in dirty money while hiding the names of its Iranian clients, he was accused of breaking ranks and jeopardizing a unified investigation.
"It seems like it's grandstanding," white-collar lawyer Richard L. Scheff told the Times of Lawsky's solo crusade.

But Lawsky proved he wasn't simply an attention-seeking arriviste by winning a big scalp for the DFS, a relatively new agency that has been struggling to get respect. He even earned plaudits from his boss, Governor Andrew Cuomo.
"This result demonstrates the effectiveness and leadership of the new Department of Financial Services, and I commend the state legislature for creating a modern regulator for today's financial marketplace," Governor Cuomo said in a statement.

True, Lawsky wanted more — he sought a penalty of up to $700 million, according to Bloomberg. But he can't be unhappy to have led the pack on a major case and gotten a nine-figure settlement out of a bank that had previously downplayed the extent of its wrongdoing. Standard Chartered still faces potential civil and criminal charges from Treasury, the Justice Department, and the Manhattan District Attorney, among other agencies.
After news of Lawsky's big settlement hit the wires, we gave Scheff, the chairman of the law firm Montgomery, McCracken, Walker & Rhoads, a chance to revise the quote he gave the Times a week ago.
"The point I was making wasn't about the merits of the case," Scheff said of Lawsky's effort to bring Standard Chartered to justice. "Look, he's achieved a settlement in a relatively short period of time. He ought to be applauded for that."
So, we asked Scheff, did he still view Lawsky's performance as grandstanding, given today's settlement?
"It appeared to be at the time," he said. "Maybe there are facts out there that would cause me to change my mind."