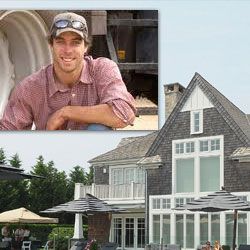 Our Hamptons columnist.
Photo: Michael Loccisano/Getty Images, Courtesy of Joe Schwenk
[Back in June, Daily Intel readers were introduced to Joe Schwenk, a Hamptons contractor who had taken to Twitter to dish dirt on the "hedgies" and "citiots" who hired him for odd jobs. Ten weeks and 6,000-odd Twitter followers later, we asked Joe to give us his end-of-summer wrap. Here's what he sent back.]
It was another summer in paradise.
My guys and I did just about everything. Beyond the leaky roofs, broken pool heaters, and $50,000 tree installations (for one tree, singular), we also built a backyard dirt bike track for a kid's 13th birthday party and fixed a photo booth in a rich guy's basement in the middle of the night. We drained an entire pool for fear of contamination by a dead raccoon, and we drove dogs (plural) to acupuncture appointments.
We even jump-started $100,000 electric Teslas. For three different people. 
This year, the houses are bigger, but their owners seem shorter. And technology finally made it out here. Today, unfreezing someone's Wi-Fi is as important a skill as fixing a clogged sink drain. 
My $99 smartphone has enabled a larger online following than all of our local newspapers combined. The result? Not much. Some new customers, some sketchy e-mails from reality-TV producers, but, most importantly, everyone is paying their bills on time.
So what did we learn this year? Well, after a big dinner at Renee's Casso Basso, my favorite restaurant in the Hamptons (that I have just destroyed by mentioning here), a few other locals and I arrived at the following trends we witnessed during Summer 2012:
Pent-Up Anger Against the Rich (PUAAR)   
One of my most debated posts was about Zombie Homes. These are estates that are taken care of just like they are when people are living there, except the owners are in Europe for the month — and often longer. Their lawns are mowed, gardens tended, pools set at 88 degrees, A/C on 74 and interiors and windows cleaned daily.
The waste really pisses people off. Don't they have relatives? Haven't these people ever heard of AirBnB?  
The schism and anger between the Über-rich and the not-so-Über, not-so-rich, continues to expand. And the rich are feelin' it.  My guys at the airport see a lot more hedgies in big rim hats, hunched over, staring at the pavement when they board their helicopters on Sundays, and a lot more household staff are now being given confidentiality agreements to sign. The rich want to go underground. At least the smart rich do.   
Competitively Distressed Lifestyles   
Possibly in an effort to order to avoid PUAAR, lots of 212 folks are now trying (unsuccessfully) to adopt competitively distressed lifestyles: musty Montauk beach cabanas, over-restored vintage SUVs, and outfits that are stylized to look trashed and dirty, but actually cost more than a decent wardrobe.
I even taught two members of Team 212 how to farm using their vintage Farmall Cub tractors. (I do appreciate people who are open to getting dirty the old fashioned way.) The irony is that this aspiration to a competitively distressed lifestyle has supercharged Montauk real estate prices. Until recently, it was the last sleepy village we had.
Rise of the @Beachtrepreneur   
Usually female, often married to a bigwig, the @Beachtrepreneur is a new Hamptons hybrid. She spends her days tweeting and Instagramming her life of surfing, paddle-boarding, spinning, partying with friends. (Think lots of photos of bottles of rosé and fresh produce.)
For the @Beachtrepreneur, the next step is using that online following as a platform to launch a cookbook, juice-cleansing products, a jewelry line, or to just to resolve boredom. When confronting the @Beachtrepreneur, prepare yourself for of lots tweets and posts about the "special light" in the Hamptons, hating parties, and preferring small barbeques with close friends to nightclubs. But don't be fooled: They are bored, usually out late during the week, and they know how to have fun.    
Exercise 2.0   
The days of Lotte Berke and the old Omni Health club at the Southampton Jitney are long gone. They have now been replaced by warring spin classes of FlyWheel and SoulCycle. Hedgies are certainly used to creating nothing and spinning their wheels at work, so the excitement surrounding these classes makes perfect sense to me.
It has also coincided with a run on any custom fresh juices made with kale, rice milk or cayenne. It is widely suspected that the most profitable retail business in all of Sag Harbor is Provisions health food, where a large cup of juice costs more than a home-cooked dinner for two.    
The Death of Sagaponack   
After spending years as the most expensive zip code and undergoing a questionable transition into village-hood, it was inevitable that Sagaponack would fall under its own weight.
And as I predicted years ago, Sagaponack has simply been crushed. What was once the 'hood of Truman Capote, Kurt Vonnegut, Roy Scheider, and Billy Joel is now an undistinguished development of identical spec homes. Esteemed architecture critic Paul Goldberger has joked on Twitter, " … all financiers with net worth in 9+ figures must have shingled houses with gambrel roofs." 
Simply put, in about fifteen years we went from tiny cute barns on expansive fields to 10,000-square-foot juiced-up houses on a one-and-a-quarter-acre lots, with plug-and-play landscaping jobs that are about as interesting as the hedgie lemmings who reside inside. Sagaponack has become Levittown for rich people.
So, in about two weeks, 212 will be out of here and I'll be like the kid whose parents forgot to pick him up at the end of camp. Yes, I'll have crisp fall weather, easy parking spaces, and reasonably priced restaurant menus, but there is a part of me that will miss the relentless ambition and sweaty desperation to be relevant that makes my customers so interesting to watch and to work with.
Until we meet again next summer, I leave you with my favorite Hamptons moments of Summer 2012: