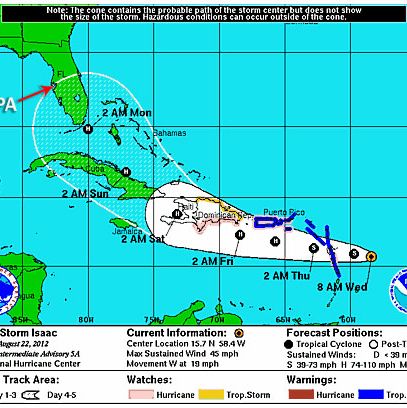 As you can see in the above map of the National Weather Center's latest forecast, Tropical Storm Isaac could very well hit Tampa on Monday, the first day of the Republican National Convention, and sweep 50,000 conventiongoers right into the Gulf, where the waters will eventually carry them all to Mexico. In a twist of delicious irony, the penniless and passportless survivors will be forced to trudge through the desert and sneak over the Mexican-American border to return home.
But it's also possible that none of that happens. The hurricane could certainly change course, as hurricanes are wont to do. And if it looks like a direct hit is imminent, Tampa Mayor Bob Buckhorn is prepared to "shut that whole thing down," as Todd Akin would say.
Tampa won't hesitate to pull the plug on the Republican National Convention next week if Tropical Storm Isaac threatens the Tampa Bay area as a major storm, mayor Bob Buckhorn told CNN Wednesday morning.

"Well, absolutely, we're prepared to call it off," Buckhorn said on the network's Early Start with John Berman. "I mean, safety and human life trump politics. I think the RNC recognizes that. The organizers, certainly Gov. (Mitt) Romney, recognize that."
We don't know. Politics is pretty important too. Probably below human life, but above safety.