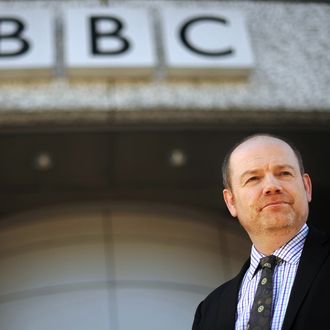 Arthur will now be known as "Ahhthuh."
Photo: BEN STANSALL/AFP/Getty Images
Mark Thompson, the director general of the BBC, has been named president and CEO of the New York Times Company, Arthur Sulzberger Jr., the paper's chairman and publisher, announced today.
Sulzberger has been filling the top spot on an interim basis since last December and led a long search process for a permanent CEO that reportedly involved both internal and external candidates. Ultimately, though, the position went to Thompson, who joined the BBC in 1979 and rose through the ranks to head the organization.
In a statement, Thompson — who starts at the Times in November —  called his new employer "one of the world's greatest news providers and a media brand of immense future potential both in the U.S. and around the world."
Thompson joins the Times at a crossroads. Amid the evaporating advertising market and a shift away from traditional pulp-and-ink publishing, the Times announced this quarter that, for the first time in its 161-year history, it now received a greater share of its revenue from circulation than advertising. The paper's much-ballyhooed digital subscription strategy has succeeded, but the paper's future — at least in its current form — remains uncertain. (It's notable that Thompson, whose career has been spent mostly in the BBC's television division, referred to the Times as a "news provider," not a "newspaper.")
Thompson will also have to contend with internal quarrels at the Times' Eighth Avenue headquarters, where Newspaper Guild of New York members have been fighting with Times management over pension freezes and other contract negotiations for months. One petition to Sulzberger earlier this year drew hundreds of signatures from Times reporters and launched a website, Save Our Times, that took Times management to task for approving a "very generous severance and retirement package" for Robinson despite tightened belts elsewhere in the newsroom. (Full disclosure: I worked at the Times until this May.)

As CEO, Thompson may be able to defer some internal political questions to Sulzberger. But he also may not. As Joe Hagan pointed out in his New York story about Janet Robinson's departure, the byzantine corporate structure of the Times makes the exact jurisdiction of the Times Company's CEO tough to pin down.

It raises the question of what the next CEO of the Times will be running when he or she shows up, and how much authority and power he or she will have under the thumb of the family, led by Sulzberger, who, in the pretzel logic of the Times' management structure, will be both his or her boss, as chairman, and his or her underling, as publisher — a situation that denies a leader any real authority.
Let's hope, for the sake of the paper of record's general well-being, that Thompson is better able to thread that particular needle better than his predecessor.