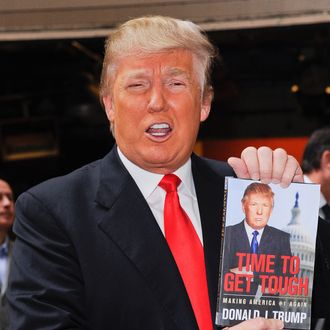 The Donald Trump we used to know.
Photo: Ray Tamarra/Getty Images
Here we are thinking that Donald Trump, the world's most relentless self-promoting attention whore, would jump at the chance to deliver a prime-time, nationally televised speech at the upcoming GOP convention in Tampa, when Newsmax reports that sources who are definitely not Donald Trump are saying that Trump was offered such an opportunity and turned it down. Why would he do such a thing?
Trump's people also have told the Romney campaign that while he fully supports the Republican candidate's presidential bid, he cannot spend the full week in Tampa due to pressing global business pursuits.
Oh, well, "pressing global business pursuits," sure, can't miss that. That sounds like a very important and real commitment that Trump has.
While Trump's pressing global business pursuits will preclude him from delivering a ten-minute speech, they will not, however, prevent him from giving a mysterious "big surprise" at the convention, which we're still 85 percent sure is him telling Obama "You're fired!"