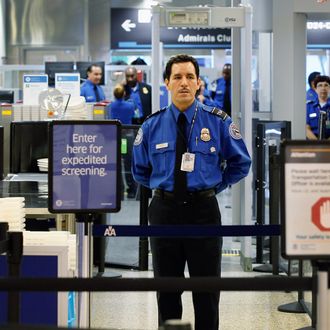 TSA, at your service.
Photo: Joe Raedle/2011 Getty Images
When the TSA is in the news, it usually means another citizen feels they've been manhandled. However, today there was a bit of good news. TSA behavior detection officers saved a woman from kidnappers at Miami International Airport when they noticed she was trembling and trying to hide facial injuries, CNN reports. The incident actually happened a month ago, but the agency insists the timing of the announcement had nothing to do with Wednesday's congressional hearing on TSA misconduct. Either way, Congress didn't notice. 
Representative Mike D. Rogers opened the hearing by saying, "Stealing from checked luggage; accepting bribes from drug smugglers; sleeping or drinking while on duty — this kind of criminal behavior and negligence has contributed significantly to TSA's shattered public image." Sure, that sounds pretty bad, but don't forget about that time the rescued a lady simply by doing their jobs.