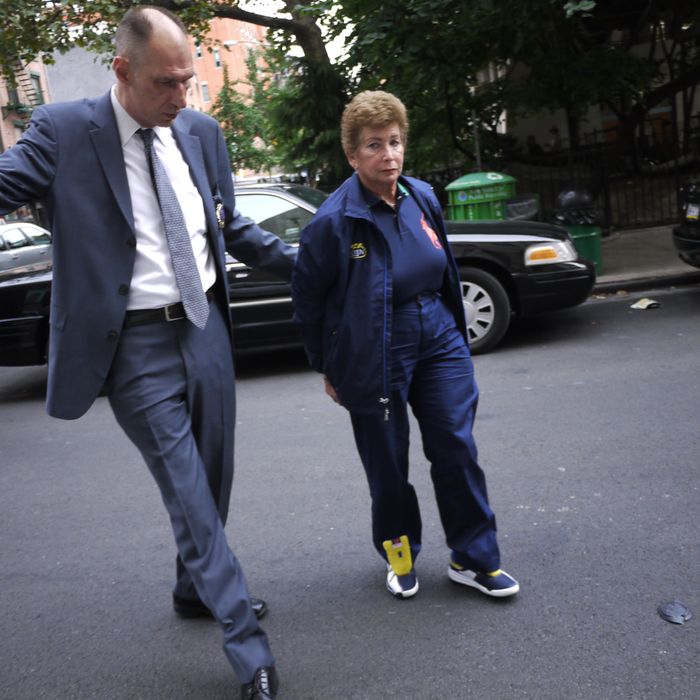 Photo: John Marshall Mantel/Sipa USA via Newscom
Los Angeles Police Department detectives arrested 70-year-old Lois Ann Goodman on Tuesday at the Sheraton Hotel in midtown Manhattan, where she was charged with murdering her husband. In April, Alan Goodman died in L.A. from multiple injuries to his head. Goodman, a professional tennis referee, arrived in New York this week to officiate matches at the U.S. Open in Flushing Meadows, Queens.
Goodman had told LAPD detectives that her husband fell down the stairs, but they continued investigating because the department found her account suspicious. "There was an awful lot of blood," said LAPD Lieutenant David Storaker. "It just didn't match the fact that he had just fallen down the stairs." Police ruled the death a homicide on August 2. According to the New York Times, the criminal complaint says that Goodman "personally used a deadly and dangerous weapon(s), to wit, COFFEE CUP."
Goodman was cuffed yesterday while wearing her official U.S. Open gear, including a blue Ralph Lauren sweatsuit emblazoned with the tennis major's logo. Not exactly the best press. "She was surprised," a source told the Post. Goodman claimed to police that she returned from refereeing an amateur tennis match to find her husband dead, but a law enforcement source said "there was no sign of forced entry. Obviously, he was killed by someone who knew him and had a key."
A neighbor said, "One time, when I saw [Lois] in front of our garage while her husband was taking out the trash, she told me, 'He's driving me crazy,'" which isn't the kind of marital strife that gets noted until someone shows up dead.
Goodman has been umping top-tier tennis matches since the seventies, and was known to stand up to hotheads like John McEnroe and Andre Agassi, according to a 1994 interview with the L.A. Times. "He carried on and complained and complained," said Goodman of Agassi. "Then he came back to the line where I was standing and asked the crowd behind me how they saw the ball. Everyone yelled that the ball was out and he got real mad, but he came up to me and said, 'I stand corrected. I apologize.'"
This post has been updated throughout.