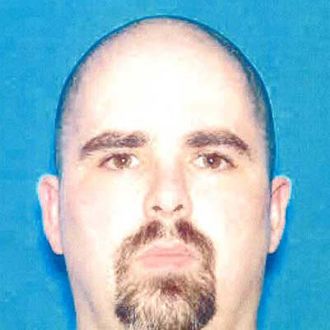 Photo: The Office of the Chief of Police, Oak Creek, Wisconsin
The man who allegedly killed six people at a Sikh temple in Wisconsin yesterday before being shot dead by police has been named by Fox News and CNN as 40-year-old former soldier Wade Michael Page. The "heavily tattooed" Army veteran was potentially a "white supremacist" or "skinhead," ABC News reports, although the FBI has not determined a motive in what they're investigating as a possible incident of "domestic terrorism." 
Page, a bald white man, reportedly stormed the place of worship on Sunday morning wearing a white T-shirt and black pants, revealing a 9/11 tattoo on his arm, which "implies to me that there's some level of hate crime there," said a temple member. (Sikhs have been mistaken for Muslims and targeted with hate crimes before.) It was Page's tattoos, along with "certain biographical details," that convinced the FBI to consider the domestic terrorism designation, which implies a political agenda, the Los Angeles Times reports.
"It is being investigated," said Bureau of Alcohol, Tobacco, Firearms Special Agent Thomas Ahern. "And what his tattoos signified is being investigated. They are all pieces of a possible puzzle to learn what was his motive in carrying out such a horrific act."
Page was once stationed at Fort Bragg in North Carolina, where CBS News says he last served in psychological operations. According to the Milwaukee Journal Sentinel, he rented an apartment one month ago in Cudahy, Wisconsin, not far from Oak Creek, where the shooting occurred. "I had him checked out and he definitely checked out," said the landlord.
Local authorities have scheduled a 10 a.m. press conference Monday morning, at which point more may be revealed about the shooter.
Update: The Southern Poverty Law Center reports that Page fronted a North Carolina–based white power band called End Apathy. The group's MySpace page features photos that are allegedly of Page, along with a biography that claims, "The music is a sad commentary on our sick society and the problems that prevent true progress."
Update 2: In an interview from April 2010, Page tells his record company Label 56 about his personal history with music and the founding of End Apathy:
A lot of what I realized at the time was that if we could figure out how to end peoples apathetic ways it would be the start towards moving forward. Of course after that it requires discipline, strict discipline to stay the course in our sick society. So, in a sense it was view of psychology and sociology. But I didn't want to just point the finger at what other people should do, but also I was willing to point out some of my faults on how I was holding myself back. […]

The topics vary from sociological issues, religion, and how the value of human life has been degraded by being submissive to tyranny and hypocrisy that we are subjugated to. […]

I am originally from Colorado and had always been independent, but back in 2000 I set out to get involved and wanted to basically start over. So, I sold everything I owned except for my motorcycle and what I could fit into a backpack and went on cross country trip visiting friends and attending festivals and shows. I went to the Hammerfest 2000 in Georgia, over to North Carolina, up to Ohio, down to West Virginia, and out to California and that's when I joined Youngland. […]