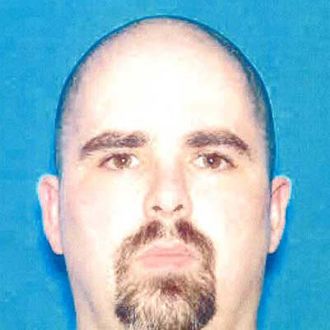 Page.
Photo: The Office of the Chief of Police, Oak Creek, Wisconsin
As investigators struggle to put together the pieces of Wade Michael Page's life in the wake of his massacre at a Sikh temple in Wisconsin, they've zeroed in on the company he kept. Unfortunately for Misty Cook, Page's ex-girlfriend and a fellow white supremacist, the unwanted attention revealed she was breaking the law: Cook was arrested yesterday when authorities found a gun in her Milwaukee home despite her felony conviction for fleeing a traffic officer in 2002, which prohibits her from owning a firearm, ABC reports. And cue the speculation about Page's unhinged motives — the couple broke up recently.
Cook and Page moved into an apartment together in March, but by mid-June, Page had moved out. "She had put his stuff in the basement and told him if he needed anything else just to get it out of the basement, she really didn't want him around," said Cook's mother.
"She told us that for six weeks she hadn't heard anything of him," said a neighbor. "That would have been about the time after he left, so she must have gotten a hold of a co-worker and said he hadn't been at work for three weeks. She said he kind of just dropped off the face of the earth." When the neighbor saw Cook the day after the shooting, "She said, 'Did you hear what happened to Wade?'" and appeared "shocked … No emotion. Didn't cry. No crying. Blank stare."
Cook, who appears in a photograph obtained by the Anti-Defamation League wearing a T-shirt for the extremist right-wing group Volksfront, posted on neo-Nazi online forums and believed she was being tracked by the FBI. This week, she told the Milwaukee Journal Sentinel via e-mail, "If I could say something to ease the pain of the victims and their families, I would gladly do so. Unfortunately, words do not begin to heal the pain they are going through."