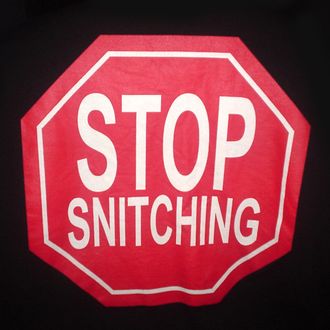 This sign was not posted in the informant's office.
Photo: photobucket
Back when Dodd-Frank was being written, lawmakers came up with a nifty way to get Wall Street workers to turn in their corrupt brethren: They would reward financial whistleblowers by giving them a cut of any penalties paid by a firm to the Securities and Exchange Commission, in the event that their tip turned into a successful enforcement action.
Today, the SEC gave out its first such bounty: A $50,000 reward, made payable to a brave, patriotic soul by the name of … wait a minute.
Actually, the SEC doesn't name its tipster. All it says is: "The award recipient, who does not wish to be identified, provided documents and other significant information that allowed the SEC's investigation to move at an accelerated pace and prevent the fraud from ensnaring additional victims."
SEC enforcement chief Robert Khuzami also didn't name the fraud the agency's tipster helped bust, saying only, "Had this whistleblower not helped to uncover the full dimensions of the scheme, it is very likely that many more investors would have been victimized."
The tipster's bashfulness is probably well-founded. (Worst résumé line ever: "I turned in my boss/colleague/broker/ex-husband and he got fined millions of dollars and now I have enough money for a 5 Series.") But for the sake of our nosiness, we wish the SEC would trot this guy (or girl) out for a victory lap.
After all, it could have been worse for the SEC's informant. He or she could have been beaten to the punch by another tipster on the same case, and received nada as a result. Like this guy:
The SEC did not approve a claim from a second individual seeking an award in this matter because the information provided did not lead to or significantly contribute to the SEC's enforcement action, as required for an award.
Informant No. 2, feel free to take your allegations of financial fraud directly to Daily Intel next time. We promise to buy you a sandwich, at least.