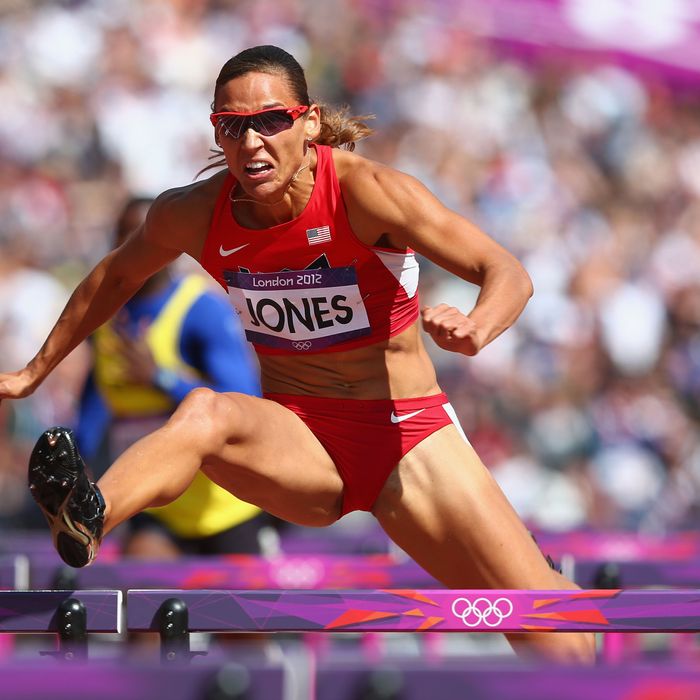 Photo: Michael Steele/Getty Images
On Sunday, the New York Times took its claws out and went snarky and sexist on American sprinter Lolo Jones, declaring that the attention she received in the run-up to the Olympics "was based not on achievement but on her exotic beauty and on a sad and cynical marketing campaign." (Headline: "For Lolo Jones, Everything Is Image." Everything!) The article, by Jere Longman, charged, "Jones has decided she will be whatever anyone wants her to be — vixen, virgin, victim — to draw attention to herself and the many products she endorses," and went on to compare her to Anna Kournikova.
On the Today show yesterday, Jones, who ended up placing fourth in 100-meter hurdles, reminded everyone, "I have the American record. I am the American record holder indoors, I have two world indoor titles." She added, "They should be supporting our U.S. Olympic athletes and instead they just ripped me to shreds. I just thought that that was crazy because I worked six days a week, every day, for four years for a twelve-second race and the fact that they just tore me apart, which is heartbreaking." Outgoing Times public editor Arthur Brisbane agrees.
Brisbane took to his blog today to post the e-mail he's been sending to outraged readers. In it, he acknowledges that "the article is a point-of-view piece and not straight news coverage," so "the writer has some latitude to insert his own perspective." But he also acknowledges, "In this particular case, I think the writer was particularly harsh, even unnecessarily so," and "left me, along with others, wondering why the tone was so strong."
As if to make a bit of amends elsewhere, the Times also published "For Women at the Olympics, the Spotlight Can Be Harsh" last night, grouping Jones with gymnast Gabby Douglas and weightlifter Holley Mangold as athletes who have had to weather superficial criticism.
In the original slam, Longman wrote that Jones "has denounced a double standard that celebrates male athletes as sex symbols but derides women," and admitted, "She has a point. No one is complaining that Ryan Lochte is athletic eye candy." Lochte's "haul of Olympic swimming medals" make it okay, though, according to the next sentence. In addition to the twisted view of sexuality, it's the implication that a record-holding Olympian can be a loser that's really warped.