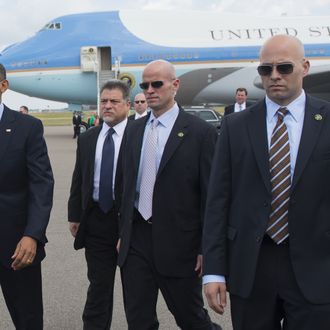 Men in dark glasses.
Photo: SAUL LOEB/2012 AFP
Secret Service agents raided the Washington apartment of 31-year-old Anton Caluori, who allegedly made a threat against President Obama via e-mail, CBS reports. The FBI received the threat, then contacted the Secret Service. When Secret Service agents knocked on Caluori's door Tuesday afternoon in a suburb called Federal Way, he "charged at them" with a shotgun, ammunition, and a second weapon believed to be a pistol. No one was injured during the arrest, but local police and agents say he suggested there were explosives in his apartment. A search by the bomb squad turned up nothing. Caluori is due in federal court on Wednesday on charges of making threats against the president and assault against a federal agent.