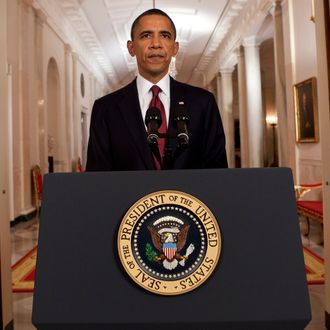 Contrary to popular belief, Barack Obama does not get to spend the week of the Republican National Convention eating Hot Cheetos and catching up on Breaking Bad. Although most of the nation, especially the media, has their eyes fixed on Tampa (and, unfortunately, Isaac), the president is chugging along with his reelection campaign as well, hitting up colleges in Iowa, Colorado, and Virginia to welcome students to a new school year and remind them to, you know, vote, considering a lot of them were still in short pants last time around.
Meanwhile, the Obama-loving super-PAC Priorities USA Action is doing its best to undermine the Rally Behind Romney Spectacular down in Florida. There's also that damn hurricane.
While Obama hits up Iowa State University, Colorado State University, and the University of Virginia over the next two days, his backers are unleashing $30 million in new negative ads targeting not Romney's time at Bain, but his rule in Massachusetts. In the latest clip, a small business owner who voted for Romney in 2002 explains, "Governor Romney cares about big business; he cares about tax cuts for wealthy people, and I certainly do not believe he cares about my hardworking employees. I feel like I was duped by Mitt Romney. I'm going to vote for President Obama." The spot will run in battleground states including Colorado, Iowa, Ohio, Virginia, and, of course, Florida.
Then there are the presidential duties that come with a looming national disaster. "As we prepare for Isaac to hit, I want to encourage all residents to listen to your local officials and follow their directions, including if they tell you to evacuate," President Obama said in a briefing this morning from the White House. "Now is not the time to tempt fate, now is not the time to dismiss official warnings. You need to take this seriously." Under the circumstances, the president can steal some of Romney's spotlight with both political maneuvering and just by doing his job.