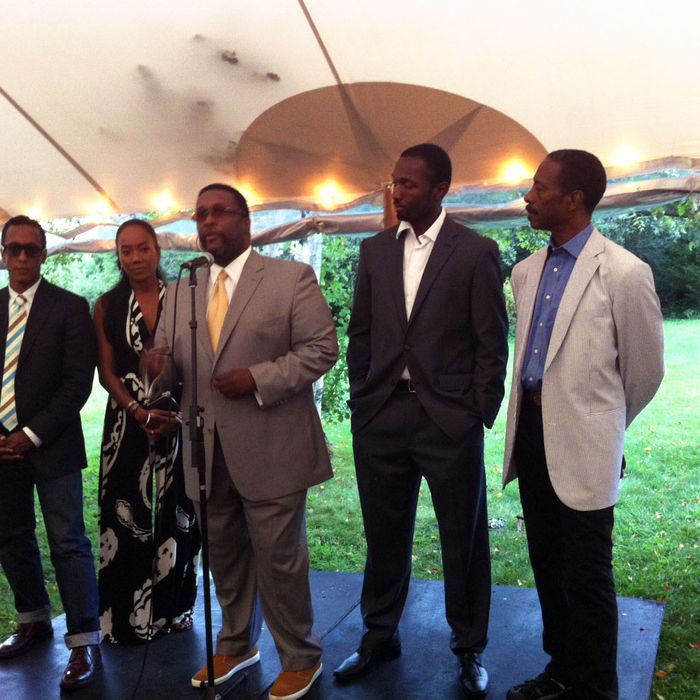 Bubs, Kima, Bunk, Marlo, Lester.
Photo: Rachel Kramer Bussel
David Simon isn't one to keep his opinions to himself, and in an attention-grabbing blog post yesterday, the creator of The Wire — which President Obama has called "one of the best shows of all time" — shared a few barbed thoughts on Mitt Romney's tax rate. "Am I supposed to congratulate this man? Thank him for his good citizenship? Compliment him for being clever enough to arm himself with enough tax lawyers so that he could legally minimize his obligations?" Simon asked, with palpable disgust. "Thirteen percent.  The last time I paid taxes at that rate, I believe I might still have been in college."
But Simon wasn't the only Wire alum to go to bat for President Obama this week. Gathered under a giant tent in the backyard of the Martha's Vineyard home of longtime Obama supporters Ron and Judy Davenport Wednesday night, five former cast members of The Wire spoke to an enthusiastic crowd of approximately 200 people — who had paid $500 to $2,500 each for the pleasure — about the need to get out the vote this election season. Attendees included Democratic Congressman Sandy Levin, famed Harvard Law professor Alan Dershowitz, and Obama senior adviser Valerie Jarrett, who introduced the event.
"How dare we have an enthusiasm gap?" asked Wendell "Bunk" Pierce, who received a round of applause after mentioning the passage of the Lilly Ledbetter Fair Pay Act of 2009. "The call to service from this administration is the only reason I've gotten involved."

Sonja "Kima" Sohn warned that Republicans were  expecting poor voters who live in the projects to stay home on Election Day. "They're devising ways to keep them home," she promised. Sohn spoke of traveling during the 2008 campaign season to stump for Obama to Winston-Salem, North Carolina, where her father grew up and her brother was murdered, talking to those living in poverty and encouraging them to vote, and said she will be voting in North Carolina for the first time this year.

Other former cast members are relative newcomers to the world of politics. Jamie "Marlo" Hector didn't have an answer when asked about the most important issue in this election, though he believes his sister, who died of multiple sclerosis, would still be alive if she'd been around during Obama's health-care reforms. Andre "Bubbles" Royo also stressed the importance of the access to affordable health care. "That should be a no brainer," he said.

Clarke "Freamon" Peters, who was born in New York but has lived in London for decades, said he noticed a difference across the pond since Obama took office. "People around the world look at Obama as their president. [He] has given us back our credibility. I don't want to go around the world and be the target of someone else's disdain." While the names Romney or Ryan never came up, Peters drew laughs when he referred to President Bush's win in 2000 as a "coup d'etat." But the crowd fell quiet as he continued, "When that other man was made president, that's how it looked to the rest of the world. That's not my America. If that had happened in any other country, the U.N. would have been in there looking at those votes."
(For what it's worth, Michael K. "Omar" Williams proved to be elusive as his character — Obama's favorite on the show. He did not attend, despite being been listed in announcements for the fund-raiser.)
After each cast member had delivered a short speech, they posed for photos and chatted with admirers as waiters circled with shrimp tostadas and mini caramelized bacon grilled-cheese sandwiches. One woman gushed to Peters that her young niece had become a Wire fan as a newborn, since she was breastfed while her mother watched the first season. Royo praised Funny or Die's Wire musical spoof and revealed that 97 percent of the show's dialogue was straight from the script. "[The character] Snoop was the only one they let ad lib," he said, laughing, "because they didn't understand what she said."