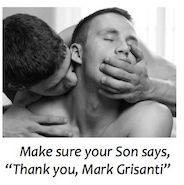 "How far will a politician go to get in your pant$?" reads the latest attack ad against Republican New York Senator Mark Grisanti, who changed his vote at the last minute in favor of New York's Marriage Equality Act legalizing same-sex marriage. "For his Gay Marriage vote, Mark Grisanti received over $750,000," the ad continues. "Sometimes they're political whore$." The words appear over still images from a gay porn company (NSFW image after the jump) and are designed to look like a mailer. Buzzfeed reports that they haven't appeared in the mailboxes of constituents in Grisanti's Buffalo-area district. However, the ads have been circulating via e-mail, only days before Grisanti will face Republican challenger Kevin Stocker in a primary on Thursday.
Politico reports that the ads were supposedly paid for by the Committee to Save the Erie County Republican Party, although there's no information on Google about the group. Local bloggers have speculated that 23-year-old aspiring politician and failed mayoral candidate Matthew Ricchiazzi is behind the materials, perhaps owing to some animosity over a physical altercation involving Grisanti at the Seneca Niagara Casino.
Ricchiazzi hasn't responded to Buzzfeed's questions about his involvement with the ads. It also happens that Ricchiazzi has identified himself as being openly bisexual and once wrote that he "spent 5 months of my life helping Grisanti get elected." Wrote a local blogger about a possible motive:
Elsewhere, there's a pair of similar anti-Grisanti images that circulated online. One of them uses an image of Lady Gaga in heavy makeup, concluding, "Vote Grisanti — because he does what Lady Gaga tells him to!" That's a reference to the musician's March 2011 concert in Buffalo, in which she urged her fans to send e-mails to Grisanti asking him to vote for the Marriage Equality bill. For what it's worth, Grisanti is not among Lady Gaga's nearly 30 million followers.