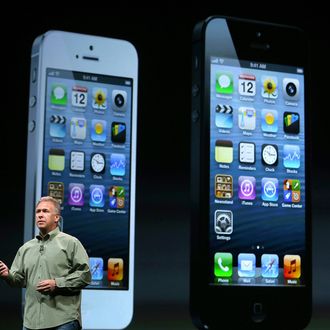 Apple Senior Vice President of Worldwide product marketing Phil Schiller announces the new iPhone 5 during an Apple special event at the Yerba Buena Center for the Arts on September 12, 2012 in San Francisco, California. Apple announced the iPhone 5, the latest version of the popular smart phone.
Photo: Justin Sullivan/Getty Images
A new NYPD report reveals that 11,447 Apple products have been stolen since the start of 2012, an increase of 40 percent from last year, CBS New York reports. This isn't good news for anybody, with the possible exception of insurers who cover thefts of Apple products.