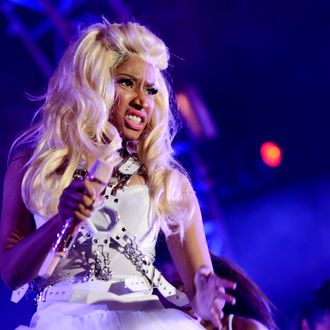 Photo: Kevin Winter/2012 Getty Images
Many a political reporter was startled last week when their job required them to visit something called Dat Piff in order to download a new mixtape by the skateboarding- and sex-obsessed rapper Lil Wayne. Buried on the song "Mercy" was a line from Nicki Minaj, a theater-kid fabulist with a host of alter egos and fake accents, in which she claimed, "I'm a Republican voting for Mitt Romney/ You lazy bitches is fucking up the economy." The silly boast about being richer than her imaginary opponents quickly became a campaign news nugget more absurd than the original claim, referred to repeatedly as an "endorsement," although, as President Obama patiently explained this morning, sometimes hip-hop lyrics are not meant to be taken as fact.
"I don't think [Sasha and Malia] really listen to Nicki Minaj that much," Obama said to a radio station in Orlando, Florida, this morning. "But let's face it, they are now hipper than me." The president, though, is not so unhip as to Tipper Gore his way through popular culture. "We've got a nice hip-hop collection on our iPod," he said.
Asked directly about the Minaj line, Obama continued, "Yeah, I'm not sure that's exactly what happened." Deep breath, everyone. "She likes to play different characters." Some of them eat brains, some deploy metaphor. Obama, meanwhile, remains in the (figurative) "trap," as they say.
Update: Minaj has finally chimed in to state the obvious. It's official: She is not a cannibal, nor is she likely to vote for Mitt Romney.