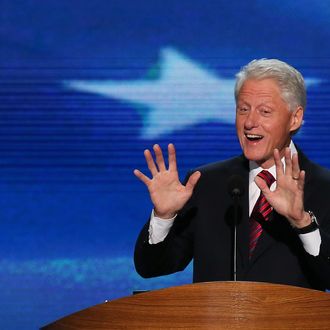 I'll give you ten guesses. (Alex Wong/Getty Images)
Photo: Alex Wong/2012 Getty Images
After stealing the show at the Democratic National Convention, Bill Clinton is doing his best to one-up this week's U.N. General Assembly meetings. Speaking to CNN's Piers Morgan at the Clinton Global Initiative last night (full transcript here), he briefly mulled a return to presidential politics. Except not in the United States — where the 22nd Amendment forbids it — but just across the pond.
There are only two countries I'm eligible to run for the leadership position is if I move to Ireland and buy a house, I can — I can run for president of Ireland, because of my Irish heritage.

And because I was born in Arkansas, which is part of the Louisiana Purchase, any person anywhere in the world that was born in a place that ever was part of the French empire, if you move to — if you live in France for six months and speak French, you can run for president.

However, I once polled very well in a French presidential race. And I said, you know, this is great, but that's the best I'd ever do because once they heard my broken French with a Southern accent, I would drop into single digits within a week and I'd be toast.
But if anyone can pull off bad, drawl-y French, it's Bill Clinton.