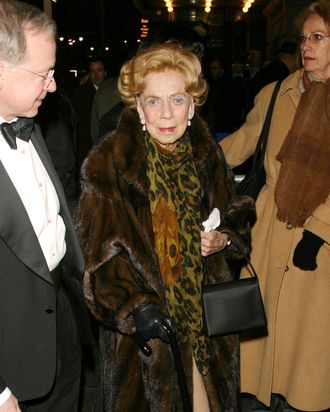 Brooke Astor arrives at the play opening of 'I Am My Own Wife' December 3, 2003 in New York City.
Photo: Peter Kramer/Getty Images
Sometimes you have so much money you lose track of it all. At least, that's what happened to Brooke Astor, though everyone assumed her family had managed to locate all of her cash during the years-long estate battle that followed her 2007 death. However, a special Citibank advertisement in the August 31st edition of the New York Daily News printed the names of thousands of people with bank abandoned accounts, and among those listed was the late philanthropist and socialite's. No one knows how much money is in the accounts, but in order to have been featured in the note they must be worth at least $50. This being Astor, we're pretty sure there might be a little more in there.