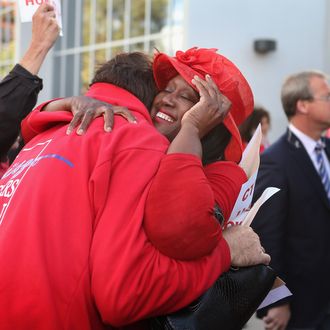 Chicago Teachers Union delegates celebrate after voting to end the strike.
Photo: Scott Olson/2012 Getty Images
On Tuesday 800 delegates for the Chicago Teachers Union voted to end a strike that's dragged on for seven days after meeting to discuss a contract settlement reached over the weekend. The agreement with the school system still needs to be ratified by the union's 29,000 teachers, but the move means that 350,000 students in the nation's third-largest district will be back in class tomorrow. While neither side seems thrilled with the deal, it puts an end to Mayor Rahm Emanuel's effort to force teachers back to work with an injunction, which was scheduled to go before a judge on Wednesday.
Emanuel praised the deal for including a longer school day and the consideration of student performance in teacher evaluations, though as The Wall Street Journal notes, both requirements were set by law before contract negotiations started. Under the new system, teachers who receive weak evaluations can be fired, but it will be difficult to dismiss teachers unless their scores are extremely low, and nontenured teachers will usually be targeted first. According to Chicago Public School officials, the average teacher's salary will increase more than 17 percent in the next four years. Raises are expected to cost the district $295 million, though it's facing a $1 billion deficit in 2015–16.
The teachers' decision to take extra time to review the contract incensed Emanuel, and it seems the union was also concerned that parents' patience was running thin. The New York Times reports that the union produced a leaflet that read, "We would like to express our profound gratitude for your support in our fight for quality public education and a fair contract," along with a list of what was accomplished by the strike in an effort to keep Chicagoans on their side. The end of the union's first strike in 25 years should also come as a relief to President Obama, who managed to avoid wading into the battle between his former chief of staff and organized labor, despite Mitt Romney's efforts to drag him into the fight.