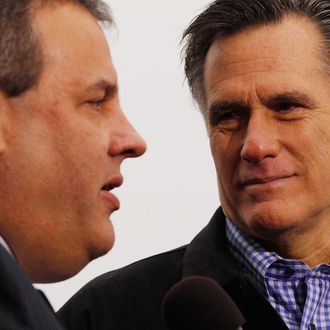 Former Massachusetts Governor and Republican presidential candidate Mitt Romney (R) and New Jersey Governor Chris Christie appear together at a campaign rally at a Hy Vee supermarket December 30, 2011 in West Des Moines, Iowa. Christie, a popular Republican governor who was urged to run for president earlier this year, appeared with Romney just days before the "first in the nation" Iowa Caucuses.
Photo: Chip Somodevilla/Getty Images
The Romney campaign has mostly been encouraging people to keep their expectations for Wednesday night's presidential debate low, but no one tells Chris Christie what to say or do. The New Jersey governor told CBS's Face the Nation today that "this whole race is going to be turned upside down come Thursday morning" after what he predicts will be a "barn burner" performance from Romney. Perhaps he's trying to make up for his RNC speech?