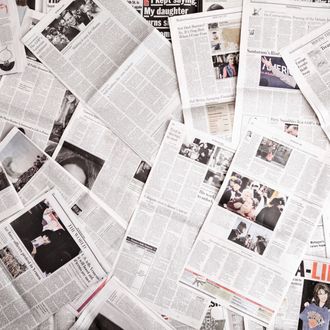 The city has been trying to evict poor Jerry Delakas from his Astor Place newsstand for more than a year because he's subleasing the space from the family who owns the license (as he's done for the last quarter-century). Now, the Post reports, he'll have to fight a high-powered attorney from the firm Proskauer Rose, who's working for the city pro bono. "So, Proskauer, a firm whose lawyers charge upwards of $800 per hour, is lending their legal services for free for the purposes of rending a 64-year-old man unemployed, jobless," said a lawyer for Delakas. The delinquent himself added, "I feel horrible, again." That'll teach him to break the rules.
Update: A statement provided to Daily Intel by the city Law Department outlines some complications, both to the Post story referenced above and Delakas's overall status as a "folk hero" for the neighborhood:
Mr. Delakas' back-door deal ripped off the City for 25 years. To embrace him as a neighborhood folk hero is an outrage. Mr. Delakas' illegal conduct took a business opportunity away from disabled veterans, elderly people and others who played by the vending rules and waited their turn.  Mr. Delakas and his attorney lost in the lower court, they lost in the midlevel court, and they're trying to play a desperate 'hail Mary' to deflect from Mr. Delakas' long-term malfeasance. 

Like many law firms in New York City, Proskauer answered the City's request for help during the financial crisis by making some of their finest young lawyers available to us. The associate handling this case started on it when she was working full time for the City Law Department, and she continued with it when she returned to private practice.  To suggest that the City hired Proskauer for this case is a blatant misrepresentation of the facts.