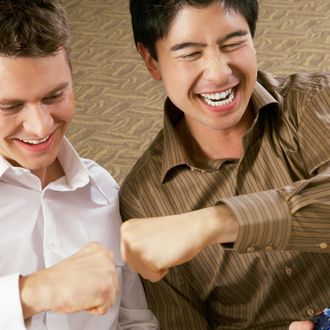 Artist's rendition of the Lumina Investments portfolio management committee.
Photo: Corbis
It's been a rough year for hedge funds. Even the best ones have been trying and mostly failing to keep up with the stock market.
But a trio of North Carolina college students aren't letting a down year defer their dreams. The undergrad whippersnappers are opening Lumina Investments, a fund that will "capitalize on the growing influence of 'macro events' on the behavior of global financial markets" and, presumably, give them something to impress the ladies with at Sig Ep keggers besides butt-chugging demonstrations.

"We believe there is upside investment opportunity through a strategy founded on understanding international developments and their global impact," said chairman Elliot Carol, a student at UNC Wilmington's Cameron School of Business who was almost certainly born in the nineties.
According to their press release:
Lumina's new fund will invest directly and indirectly into markets that are affected by international political and economic volatility using equities, commodities, fixed-income and currency trading, he said.
Now, you might read that and think, Isn't that what every macro fund does? or, less charitably, If Ray Dalio can't beat his benchmarks this year, what makes three kids who still have "emergencies only" credit cards from their parents think they can generate alpha?
But you'd be wrong. Because despite your cynicism, the three youngsters behind Lumina have been doing their homework. According to the Greater Wilmington Business Journal, they've even learned about second-order consequences:
Principal managing partner Carol referred to Greece's potential default on outstanding bonds as an example, citing the impact that it may have on European markets. Varsano, the head of investor relations, clarified further that if the European debt crisis were to be viewed as a disease, Lumina's concept is to make money off of the symptoms.

"Focusing on the usual menu of economic indicators no longer provides a path to successful investing," Carol said. "Right now, macro events are driving the market. We believe this is the new normal."
We don't typically provide investment advice, but trust us on this one: Get on the ground floor, if you still can.