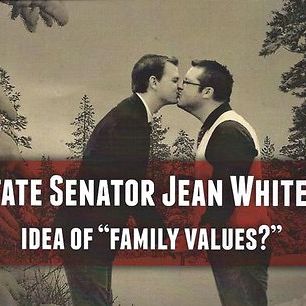 The modified photo, which showed up in Colorado mailboxes.
Photo: This photograph is protected by United States copyright law and may not be reproduced, distributed, transmitted, displayed, published or broadcast without the prior written permission of the copyright owner. Licensing requests should be sent to photosales@nytimes.com.
In May the conservative nonprofit group Public Advocate of the United States sent out a mailer with the words "State Senator Jean White's Idea of 'Family Values?'" written across a photo of two men kissing. White, a Republican who supported same-sex civil unions, was defeated in a primary in June, and thus never got a chance to encourage gay couples to wantonly frolic in the snowy Colorado woods without proper outerwear. Though it seems the ad was effective, Public Advocate is now paying for it with a lawsuit from two men in the photo, who say the group lifted their engagement photo from the Internet, swapped the New York skyline for a wintery local scene, and sent it out to Colorado voters as an anti-gay political ad.
According to the New York Times, Thomas Privitere and Brian Edwards of Montclair, New Jersey, had no idea that the image, which was taken shortly before their 2010 wedding, was being used for political purposes until a friend spotted it in the Daily News a day after the primary. The pair, along with their photographer, are suing the group for copyright infringement and misappropriating their likeness.
"We are heartbroken that our images may have been seen by gay and lesbian youth in Colorado and were left feeling ashamed of their sexual orientation because of it," Privitere said. "We hope that this group is held accountable for its reprehensible and hateful anti-gay attacks."
It's a small consolation, but at least the incident confirms that their engagement shot is so perfect that it can easily be mistaken for stock photography.