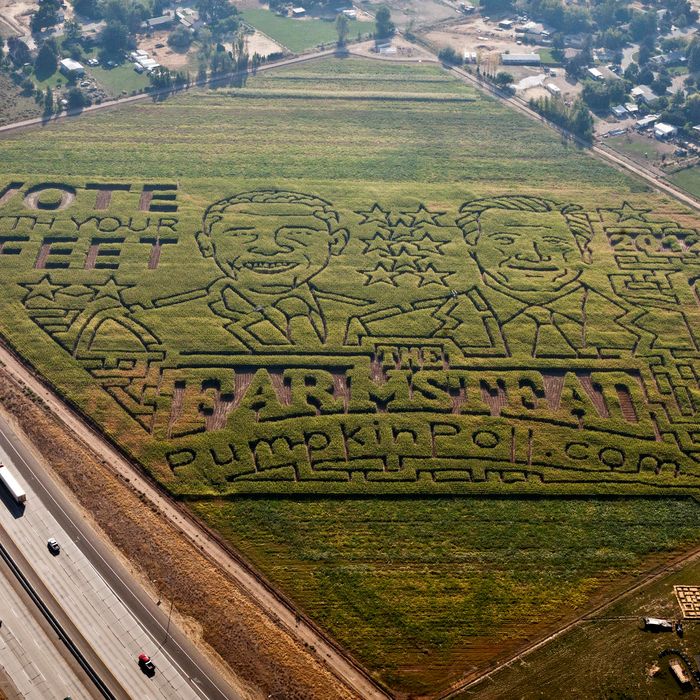 Obama and Romney have never been so corny.
Photo: Darin Oswald/Idaho Statesman/MCT/Getty
It took a season of preparation and a long day and a half of clearing corn on foot with herbicide and rototillers, but when it was all over, Jim Lowe and his wife, Hillary, owners of the Farmstead in Meridian, Idaho, had themselves eighteen acres of corn mazes featuring some pretty decent head-shots of President Obama and Mitt Romney.
The Farmstead's corn maze has been an annual tradition since 2000 — previous mazes have taken such varied shapes as the Boise State logo, the scarecrow from The Wizard of Oz, and a fish jumping out of the water — but this year, the Lowes decided to get a bit more political. Not too political though: Obama supporters are free to roam through Romney's head, and vice versa, for example. "We're all about having fun here, and we know that sometimes this political season gets awfully passionate, and that's a good thing," Jim Lowe, who has designed hundreds of mazes in his day, told us. "But we just want to have a little bit of fun with it."
As for which candidate would be better at navigating a corn maze, Lowe, when pressed, says he would have to pick Romney. "My personal strategy for navigating a cornfield is to go right," he explains.