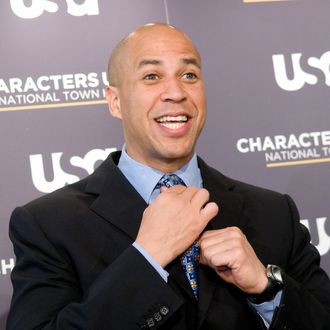 Booker.
Photo: Kris Connor/2009 Getty Images
Cory Booker's reelection team spelled every word correctly in a pro-Obama advertisement in the New Jersey directory of delegates at the Democratic National Convention except the one it really, really, shouldn't have bungled: Barack. The embarrassing full-page ad spotted by the Post reads, "Re-Elect President Barak Obama."
In case you missed it, like the ad's proofreader, there's a missing C. Booker caused a more substantive uproar in May when, during an appearance on Meet the Press, he scolded the Obama campaign for attacks on Mitt Romney's record at Bain Capital. He later backpedaled in a meandering YouTube video. The Newark mayor is slated to deliver a short speech at the beginning of the DNC on Tuesday, possibly while wearing a shock collar.