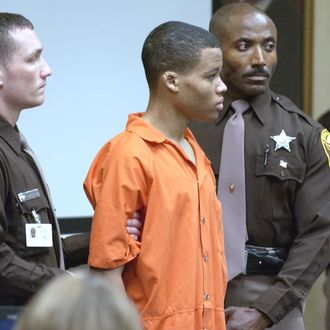 Malvo in court back in 2003.
Ten years ago, Lee Boyd Malvo was a 17-year-old boy who fell in with the much older John Allen Muhammad (both were Antiguan transplants) who'd just lost custody of his children and — to put it bluntly — snapped. Over three terrorizing weeks in October 2002, the pair carried out 13 D.C.-area sniper shootings, which resulted in 10 deaths. But, as Malvo recently revealed in a lengthy interview with the Washington Post from the Virginia supermax prison where he's been kept in solitary confinement, he and Muhammad committed some 200 crimes in their pursuit of Muhammad's ex-wife. "If we were anywhere for three days," he said, "someone was getting robbed."
Malvo now sees Muhammad for what he was, a "sinister" and "evil" man who played off his youth and vulnerability — or the physical abuse he endured — to turn him into a killing automaton.
There is no feeling. At that point in time, I had been desensitized. I'd been killing people for months, if not a whole year, day in and day out. In the midst of the task, there is no feeling. … It got to a point where I'd get in a zone. There was nothing else but whoever is before me, and anything that comes between me and, as you would say, the target, I'm either going to destroy, or if it's too big, find a way around it. Nothing is going to stop me but death to get that done.

I was able to tap into a place that if there was a soul there it was behind layers and layers and layers of darkness.
The FBI agent who initially questioned Malvo thought he was "under the spell of Muhammad and that would wear off as time went on," which it did. However, Malvo is not shrinking from his own actions, even if it was Muhammad who mostly pulled the sniper trigger. "I was a monster," he told the Post. "I was a ghoul. I was a thief. I stole people's lives."
He specifically remembers the killing of 47-year-old FBI analyst Linda Franklin in the parking lot of a D.C.-area Home Depot on October 14, 2002 — and the look in her husband's eyes. "They are penetrating," he says, recalling what he saw through binoculars — he served as Muhammad's lookout in the blue Chevy Caprice where the sniper rifle was eventually found. "It is the worst sort of pain I have ever seen in my life. His eyes…" It made him feel like "the worst piece of scum on the planet"
Ten years on, his killer stare "softened" thanks to time, yoga, and poetry, Malvo is a man coming to grips with who he might've been, had he not met John Allen Muhammad. But whereas the past continues to define his current situation, he had this message for his victims' families and friends: "There's nothing that I can say except don't allow me and my actions to continue to victimize you for the rest of your life. It may sound cold, but it's not. It's the only sound thing I can offer."