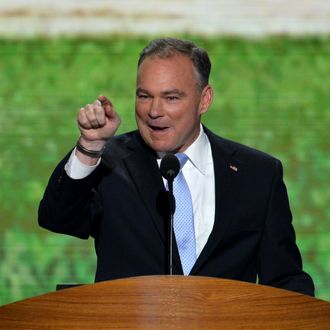 This was Kaine at the DNC. He likely looks a lot less happy right now.
Photo: STAN HONDA/AFP/Getty Images
In a Virginia senate debate this afternoon, during a discussion of the "47 percent" issue, Democratic nominee and former governor Tim Kaine was asked by David Gregory whether there should be a minimum federal income tax. To the shock of literally everyone in the world (perhaps including Kaine), Kaine said he was "open" to the idea. In other words, to paraphrase the imminent GOP response, Tim Kaine expressed support for a tax increase on half the country, including the impoverished and our brave, retired war veterans. You know what's next: Kaine is going to walk back his answer as soon as he can figure out the best way how. Maybe he can ask his opponent, George "Macaca" Allen, for some advice.