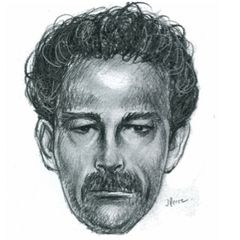 NYPD sketch of the suspect.
Photo: NYPD
The suspect paid his fare, didn't say anything, and seemed like "just a normal passenger," according to the victim's fiancée. But then the roughly 50-year-old passenger began pacing back and forth, and while exiting the B68 bus in Windsor Terrace around 11 a.m. Monday, he stabbed 30-year-old driver Mark Salandy in the shoulder with a syringe, reports DNAinfo. "He's really, really upset right now," Salandy's mother told the Daily News. "You don't know if it's an infected needle, if something was in it."
The suspect fled on foot. Meanwhile Salandy received treatment at Methodist Hospital and was later released, although he'll have to be monitored for infections, according to his relatives.
NBC New York reports that less than two hours later, a female driver was attacked when an impatient passenger punched the driver in the head aboard a B45 bus at St. John's Place and Utica Avenue. Apparently the driver was taking too long to help a disabled rider board the bus.
Police have not yet made an arrest in either case.
Sixty-one bus drivers suffered assaults in the first six months of this year, about on par with the 59 through the same period in 2011. "We're accustomed to dealing with this — three, four bus operators a week get assaulted," TWU Local 100 president John Samuelsen told CBS.
"There's been no increase in the uniformed bus police presence on our buses in terms of response, in terms of establishing partitions to protect our operators," Samuelsen said. "It has been painfully slow."