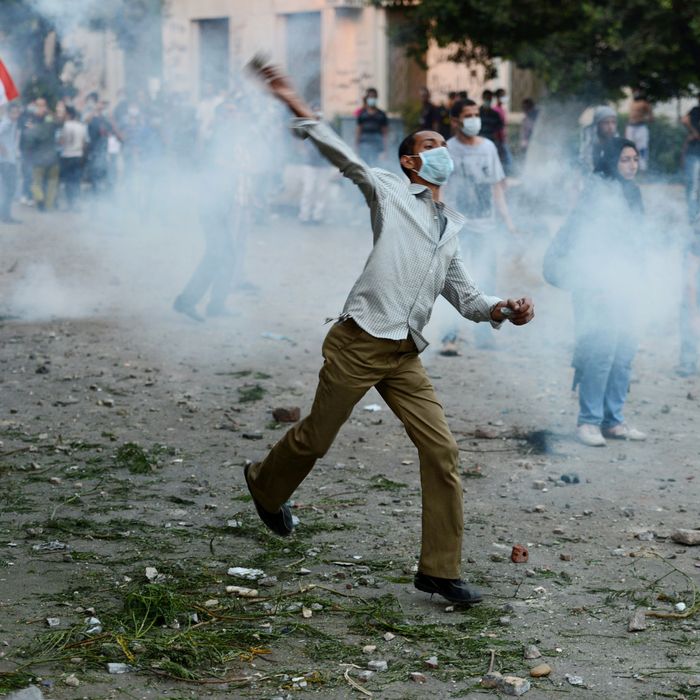 More protests in Egypt today.
Photo: KHALED DESOUKI/Getty Images/AFP
In 1989, Egypt was officially designated as an American ally — specifically, a "Major Non-NATO Ally," a status granting it various privileges — and it has remained one ever since. That is, until yesterday, when President Obama made a surprising remark in a Telemundo interview:
>
Jose Diaz Balart: Would you consider the current Egyptian regime an ally of the United States?

Pres. Obama: I don't think that we would consider them an ally, but we don't consider them an enemy. They're a new government that is trying to find its way. They were democratically elected. I think that we are going to have to see how they respond to this incident.
According to Foreign Policy, Obama had not anticipated the question but was likely trying to pressure Egypt into being a bit more cooperative amidst protests on the American embassy in Cairo, which earlier this week resulted in the American flag being burned and replaced with a black Islamist banner. But apparently Obama went a little further than he would have liked, and the inevitable walk-back soon commenced:
White House spokesman Tommy Vietor told The Cable Thursday that the administration is not signaling a change in that status.

"I think folks are reading way too much into this," Vietor said. "'Ally' is a legal term of art. We don't have a mutual defense treaty with Egypt like we do with our NATO allies. But as the president has said, Egypt is longstanding and close partner of the United States, and we have built on that foundation by supporting Egypt's transition to democracy and working with the new government."
Meanwhile, the AP reports that the Twitter feeds of the American embassy in Cairo and the Muslim Brotherhood have been sassing each other today:
It started when Ikhwanweb, the Twitter page of the Muslim Brotherhood, retweeted a message in English from the group's deputy head, Khairat el-Shater.

"We r relieved none of (at)USEmbassyCairo staff were harmed & hope US-Eg relations will sustain turbulence of Tuesday's events."

"Thanks," the embassy replied. "By the way, have you checked out your own Arabic feeds? I hope you know we read those too."

"We understand you're under a lot of stress," came the Ikhwanweb retort, "but still it will be more helpful if you point out exactly the Arabic feed of concern."