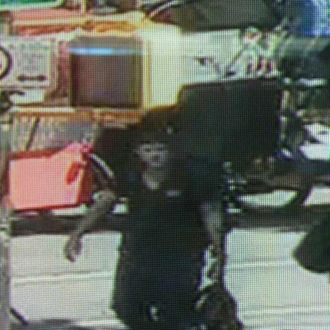 Surveillance photo of the suspect released by police.
Less than a year ago, it was reported that crime was down in Central Park, and even at night the park had become "boringly safe," as one Upper East Sider put it. Thus, parkgoers were particularly shocked to learn that a 73-year-old woman was raped and robbed around 11:50 a.m. on Wednesday. The New York Times reports that she was found by NYU Professor Eric Ozawa on a walking path near the John Lennon "Imagine" memorial, which he says was filled with tourists at the time.
According to police, the woman, who goes birdwatching in the park every day, says she believes her attacker was the same man she had a confrontation with a week and a half ago. She had spotted him masturbating in the Ramble area of the park and taken a photo of him. He demanded that she delete the photo, then tried to snatch her camera when she refused. Today her attacker asked "Do you remember me?" before throwing her to the ground, raping her, and running off with a backpack containing her camera.
When Ozawa found her she was badly bruised and lying face down with her legs in the path. He called 911 and stayed with her until police came and took her to the hospital. "For something like this to happen in broad daylight is particularly horrifying, and someone of her age," said Ozawa. "It took me a while, I think, to really register what had happened. It was such a shock. The park has seemed so safe for so long."
Police are searching for a white man in his forties or fifties with a Russian or Ukrainian accent. According to the Daily News, Central Park hasn't seen an increase in crime recently, and this is the first rape reported in the park this year.