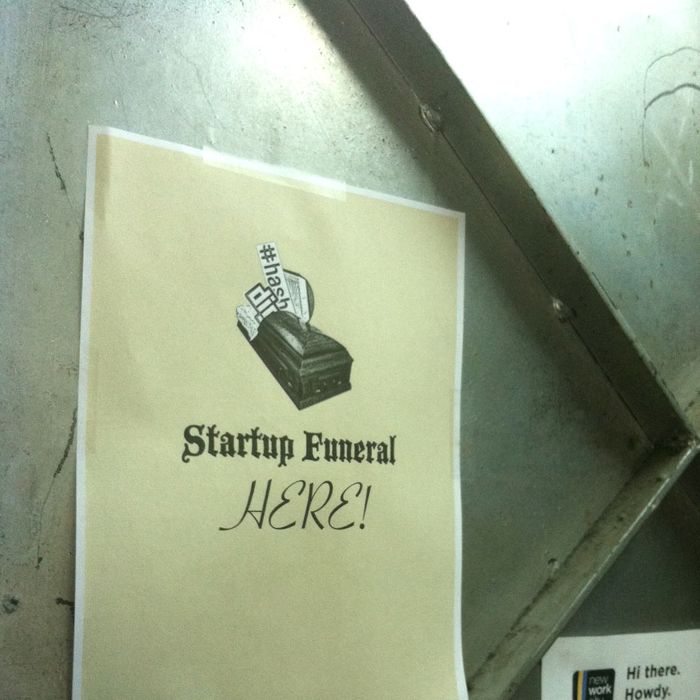 High above Canal Street in downtown Manhattan on Friday night, a group of plaid-clad techies were doing something few of their Silicon Valley counterparts would have the cojones to imagine, let alone attempt: embracing failure.
The first-ever Startup Funeral for the failed technology companies of yesteryear was designed to provide a roomful of Zuckerberg aspirants with some half-serious cautionary tales, and perhaps a bit of closure. The assembled mourners, part of a success-obsessed subculture where every setback is a GPS waypoint on the turn-by-turn route to success, were unsure what, if anything, to do. The bereaved, meanwhile, didn't even know why they were there.
"This was pitched to me as a small get-together," said Chris Siragusa, the CTO of the long-ago defunct Kozmo.com, who had unwittingly agreed to bury his high-profile failure from the first dot-com boom in front of an audience of roughly 100 younger techies.
Tech start-ups aren't supposed to die. They pivot. They iterate. Their executives are aqui-hired, and snippets of their code are passed on to the next generation. Scroll the headlines of TechCrunch, VentureBeat, or any number of other industry-cheerleader tech blogs, and you'll find new start-ups raising money, getting traction in their markets, or reaching user base targets. But finding non-euphemized evidence of a start-up's death? Good luck with that.
"Everyone has a launch party. Nobody does the last-stage-of-grief thing," said Kevin Galligan, one of the event's organizers and founder of a medical-research start-up that long ago passed into the digital beyond.
That reluctance to talk about failure and reliance on soft-spinning when things do go south is part of why the tech sector seems hopelessly naïve to many Wall Street types. Galligan, who was dressed in a priest's frock and fretting about the event's logistics, said that the Valley's embedded ethos of optimism had done the tech industry no favors.
"Finding people to speak here was the hardest part," he said. "But it's important."
At nine, a bagpiper began playing "Amazing Grace," and the mourners assembled in front of a screen showing a PowerPoint deck. The founder of Addieu, a social-network-connection-app-gizmo, described how his dreams were shattered even after a promising launch at SXSW.
"Maybe Addieu was ahead of its time," he said.
Counterfactual denial — the conviction that the failed start-up would have worked with a single, simple tweak, that it had simply outpaced consumer sophistication or that investors simply hadn't had the necessary patience to see it succeed — was a common motif.
The night's second eulogist, Dan Tashman of Get-A-Game, an app that helped users find pickup sports games (in Tashman's words, a "cross-platform, location-based, geo-social-mobile network"), spent a good ten minutes outlining, in PowerPoint form, what the app had gotten right, before admitting, "In the end, it didn't really service the people who were monetizing the service."
Siragusa, too, deployed some emotional coping mechanisms. As the chief technology officer of Kozmo.com, the orange-jumpsuited delivery service that ranks just below Pets.com in the dot-com-bust annals, he had seen millions of users, thousands of employees, and about $280 million in venture capital evaporate into thin air.
"I don't talk about it that much," he told Daily Intel before the service began. "It's one of the greatest failures of all time, and it's never had a proper eulogy."
Reading notes from his iPhone, Siragusa regaled with some Kozmo.com war stories, told the tale of how it ended, and then segued into an enthusiastic promotion of his new venture, a Kozmo-like service called MaxDelivery.
"It's a similar thing, except we decided to make money," Siragusa deadpanned.
As his eulogy wrapped up, Siragusa made a toast: "Raise your glasses to the most ridiculous company ever!" The mourners drank. The crowd began milling again, drinking Rolling Rock and eating PopChips, all having learned their lessons about the importance of failing well, achieving closure, and moving onto the next thing. Or had they? 
"Everyone says 99 percent of start-ups fail," said Alastair Coote, a tech worker who was attending with friends. "But subconsciously, everyone's saying, Not mine."