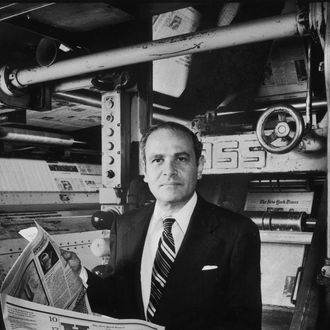 Arthur Ochs Sulzberger. (Dirck Halstead/Getty Images)
Arthur Ochs Sulzberger died today at his home in Southampton, according to reports from his family and the New York Times, the newspaper he helmed for 34 years. The grandson of Times publisher Adolph Ochs, he became the Times's youngest publisher when he inherited the role from his brother-in-law, Orvil Dryfoos, who died unexpectedly in 1963. The task confronting then-37-year-old Sulzberger was daunting — two of New York's big dailies had quietly passed into newspaper Heaven and the city was crime-riddled and facing economic collapse. Meanwhile, the Times had just booked its first-ever loss in over 65 years and was in the middle of a 114-day printers' strike. Yet Sulzberger's steady hand helped guide the paper through what could well be described as the Old Gray Lady's golden years.
Called Punch by his family and friends — as in Punch and Judy — Sulzberger is remembered fondly in his 7,663-word Times obituary as a "square-shouldered, pipe-smoking, affable, unaffected," and trusting boss, leading the paper from his 14th floor office in the old West 43rd Street Times building but never lording his power over the newsroom.
His suggestions to editors and his criticisms tended to be delivered in a velvet glove, not with a mailed fist. "He didn't have to be obeyed; he just wanted to be heard," said Jack Rosenthal, a former editor of the editorial page. Arthur Gelb, a former managing editor, put it this way:

"He never said forcefully, 'This is what I believe and this is what I want.' It was always mild and often with a little humor. He listened to what others had to say. Some people saw that as weakness. But it was the nature of a true gentleman."
Case in point: rather than badger his editors, he'd often pen a letter to the editor signed, pseudonymously, A. Sock. ("Sock" as in "sock it to him." Like "punch.")
This light touch did not mean Sulzberger didn't make some major editorial decisions. His tenure marked one of the paper's shining journalistic moments, when in 1971 it published the Pentagon Papers, embarrassing the Nixon Administration — whose Vietnam policy, like Johnson's before it, had been heavily whitewashed — and ultimately winning a groundbreaking First Amendment case before the Supreme Court.
"This was not a breach of the national security," Mr. Sulzberger said at the time. "We gave away no national secrets. We didn't jeopardize any American soldiers or Marines overseas." Of the government, he added, "It's a wonderful way if you've got egg on your face to prevent anybody from knowing it, stamp it secret and put it away."
The Times's Pentagon Paper series would go on to win a Pulitzer Prize, one of 31 picked up under Sulzberger.
But his most lasting achievements were on the business side of things, where he merged the two competing Sunday issues, closed the Times's short-lived Western edition, launched several consumer-friendly sections (like Living and Home), helped the New York Times Company go public and launch its first website, and embarked on a paper-buying buying spree. By the time his son Arthur Sulzberger Jr. took over as publisher in 1992 and chairman in 1997, the New York Times Company owned a media empire comprising over 30 other publications (including the Boston Globe) with revenues of $2.6 billion. That's more than it earns today and far more than the $101 million it was earning when Sulzberger started out in 1963.
His family says Sulzberger died after "a long illness," which Bloomberg reports was Parkinson's disease. 
Update: Arthur Sulzberger Jr. issued a statement remembering his father as "Punch, the old Marine captain who never backed down from a fight, was an absolutely fierce defender of the freedom of the press." President Obama also released one: 
"Michelle and I were saddened today to hear about the passing of Arthur Sulzberger. Over the course of more than 30 years, Arthur helped transform the New York Times and secure its status as one of the most successful and respected newspapers in the world. He was a firm believer in the importance of a free and independent press — one that isn't afraid to seek the truth, hold those in power accountable, and tell the stories that need to be told. Arthur's legacy lives on in the newspaper he loved and the journalists he inspired. Our thoughts and prayers are with his family."