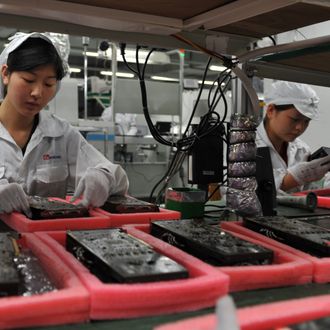 Today in unfortunate juxtaposition, Apple is reporting sales of more than 5 million iPhone 5s over the weekend while a Chinese factory where the device's parts are made has closed due to a worker riot. Some 2,000 employees at a Foxconn Technology plant in Taiyuan brawled with security and one another on Monday, Reuters reports, although a spokesperson assures the violence "appears not to have been work-related" — it just happened to occur at the factory. State-run media said 5,000 police officers were called in to calm things down.
Chinese social media users reported clashes with guards as "other workers set bed quilts on fire and tossed them out of dormitory windows." The (unconfirmed) video below claims to show some of the crowds and confusion:
Although Foxconn does not detail which of its plants supply Apple products, Engadget notes that the Taiyuan location "focuses on magnesium alloy components for consumer electronics, heat conduction products, LED lighting products, mobile phone products, and magnesium alloy automotive components," while a Chinese report last month said the factory was responsible for making the back casing of the new phone. An employee confirmed to Reuters "that the Taiyuan plant is among those that assemble and make parts for Apple's iPhone 5."
"Clearly there is deep-seated frustration and anger among the employees and no outlet, apart from violence, for that frustration to be released," said a Chinese labor activist. "There is no dialogue and no means of resolving disputes, no matter how minor. So it is not surprising when such disputes escalate into violence." But iPhone 5 deliveries will probably not be affected.