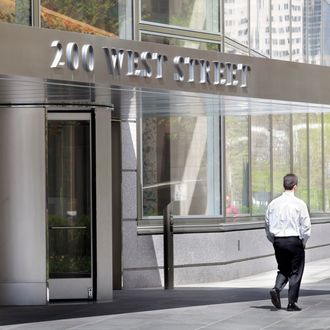 Do not send incriminating e-mails from this building, people.
Photo: Bloomberg/2010 Bloomberg
You know what sucks about being Goldman Sachs? (Nothing! But carrying on … )
You spend millions of dollars on the best employees money can buy. You commit hundreds of man-hours to teaching them how to treat clients, how to follow the Fourteen Commandments and use "LDL" liberally, how to never, ever, ever, so help them Sidney Weinberg, send incriminating e-mails via their work accounts.
And then, right as you're in the midst of one of the greatest corporate PR recoveries known to mankind, one of those well-trained stallions goes and does this:
Goldman Sachs settled federal allegations on Thursday that one of its investment bankers curried favor with a public official to win lucrative government contracts in Massachusetts. The Wall Street bank struck a roughly $12 million settlement with the Securities and Exchange Commission to resolve the "pay to play" accusations without admitting or denying guilt.
The Goldman banker in question, Neil M.M. Morrison (two middle initials, so you know he's a boss), allegedly helped run a campaign out of his Goldman office for Timothy P. Cahill, a former Massachusetts state treasurer who was running for governor at the time, while soliciting municipal finance contracts and using his political connections for leverage.
In the course of doing these incredibly dumb and avoidable things, Morrison also said incredibly dumb and avoidable things over his work e-mail account that were subsequently seen by the SEC, including but not limited to:
The boss [Cahill] mentioned to me this morning that he spoke to [the Assistant Treasurer] and that it is looking good for us [Goldman Sachs] on the build America bond deal. He then said that you would probably split it up with 2 joint bookrunners. I am ok with that if that's what you want.  I actually think it will be good because it enables the boss [Cahill] to handsomely reward someone else.

From my standpoint as an advisor/consultant/friend I am saying, PLEASE don't give these [underwriter] slots away willy-nilly.  You are in the fight of your lives and need to reward loyalty and encourage friendship.  If people aren't willing to be creative with their support then they shouldn't expect business.  This has to be a political decision.

We have discussed the Build American Bond transaction and how important it is to me.  You have been great keeping me up to speed.  This is my number 1 priority and most important ask.  Having Goldman as the lead and getting 50% of the economics would be such a home run for me.
The SEC's complaint against Morrison (PDF) also includes one of my favorite genres of subpoenaed banker e-mails — ones that show the alleged violator in the act of realizing that he probably shouldn't be doing all of this shady stuff or he might get caught:
I am staying in banking and don't want a story that says that I am helping Cahill, who is giving me banking business. If that came out, I'm sure I wouldn't get any more business.
To Goldman's credit, the bank seems appropriately miffed at its ex-employee's behavior. "We detected Morrison's activities, promptly alerted regulators, terminated his employment, and fully cooperated with the investigations," Goldman Sachs spokesman Michael DuVally told Bloomberg.
A $12 million penalty will barely make a dent in Goldman's finances. But with employee after employee failing to heed their Lloyd-given instructions, maybe it's time for Goldman Sachs to ban employee e-mail altogether. Go back to faxes, telegrams, little pieces of paper folded into triangles. Clients would probably still accept a G.S.-branded carrier pigeon hauling their pitch books, if it came to it.