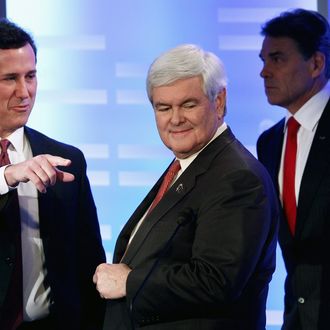 I'm with the rape expert over there.
Photo: Win McNamee/Getty Images
Ever since Missouri Senate candidate Todd Akin's laughable and cringe-inducing statements about "legitimate rape," the Republican party has tried everything to get him to drop out. First, the moneymen at the National Republican Senatorial Committee and the big pro-Romney super-PACS cut off millions in promised spending. Then, a steady stream of top Republican leaders lined up (in an orderly fashion) to demand that Akin fade into the night. But as it became clear that Akin was sticking it out — something he made official yesterday — some high-profile Republicans are having a change of heart.
In a joint statement released today, onetime Romney rival Rick Santorum and the tea-party king (a.k.a. South Caroline Senator Jim DeMint) warned that if "Republicans are to win back the Senate and stop President Obama's liberal agenda, we must defeat Senator Claire McCaskill in Missouri." The two men even pledged to send some much-needed funding Akin's way, provided by their respective campaign groups, Patriot Voices PAC and the Senate Conservatives Fund. Earlier this week, former House speaker Newt Gingrich appeared with Akin at a fund-raiser, calling on Republicans to stop being sissies and embrace the ultra-conservative, speaks-his-mind Senate candidate from Missouri.
Even McCaskill's Capitol Hill colleague Senator Roy Blunt, who had earlier called for Akin's withdrawal, gave him a grudging endorsement. Though the two men may not "agree on everything," he said in a statement, "he and I agree the Senate majority must change. I'll be working for the Republican ticket in Missouri, and that includes Todd Akin."
Update: The NRSC may be reconsidering its boycott of the Missouri race. In a statement to Talking Points Memo, NRSC executive director Rob Jesmer hedges that:
There is no question that for Missourians who believe we need to stop the reckless Washington spending, rein-in the role of government in people's lives, and finally focus on growing jobs in this country that Todd Akin is a far more preferable candidate than liberal Senator Claire McCaskill. As with every Republican Senate candidate, we hope Todd Akin wins in November and we will continue to monitor this race closely in the days ahead.