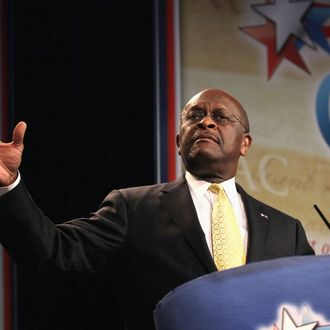 Herman Cain would have been elected president twice already.
Photo: Scott Olson/Getty Images
During a speech last night in front of 300 people at the University of Florida, Herman Cain confirmed that, nearly ten months after he dropped out of the presidential race amid a sexual harrassment scandal, he continues to possess a comically overinflated ego:
>
But Cain said he would have been doing better [than Romney] if he was the nominee, saying that he'd probably have a "substantial lead" on President Barack Obama at this point.

"The reason is quite simple: I have some depth to my ideas," he said.
This is the same man who actually said the words "I'm not supposed to know anything about foreign policy" while running for president.