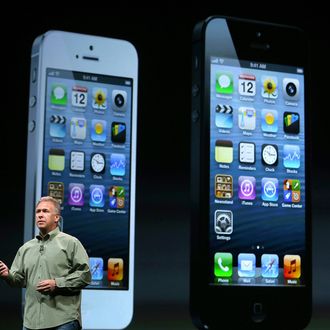 Not actual size.
Photo: Justin Sullivan/Getty Images
The New York Police Department is out in full force today at 21 different locations around the city to make sure that the throngs waiting to purchase a new iPhone 5 can do so in peace, and not get it stolen tomorrow. Like a mother writing her kindergartner's name on her lunch box before the first day of school, today's iPhone release coincides with the NYPD's "Operation ID," which hopes to curb thefts by encouraging phone registration. "The theft of Apple phones and other hand-held devices drove the spike in robberies and larceny this year," Ray Kelly announced yesterday. "Individuals alert to their surroundings are less likely to become victims, and Operation ID will help those whose property is lost or stolen to get it back."
For those who wait in line today to drop a few hundreds on a slightly different phone (with worse maps), officers will be waiting to take down serial numbers and contact info from the phone's owners, just in case. As the New York Post reports, those who are extra concerned can even have their phone engraved "with a unique serial number prefaced with the letters 'NYC' so the phones can be immediately recognized if stolen or lost — all on the NYPD's tab." Where the iPhone-engraving budget comes from is anyone's guess.
It's a tough day for Droid users, but they shouldn't feel left out. "You can register any electronic product at any time at any precinct," said a law enforcement source. "[Today's] goal is to register iPhone 5s, but you would not be turned away if you brought something else." But if you have a non-smartphone, people will laugh.
So far this year, more than 4,000 Apple devices have been reported stolen, way more than the 2,696 that were swiped all of last year; partially as a result, grand larceny is up 10 percent. The police have started calling it "Apple picking," because they double as wordsmiths.
As for the rest of the city's criminals, with eyes on the Apple Store, today might just be their lucky day.