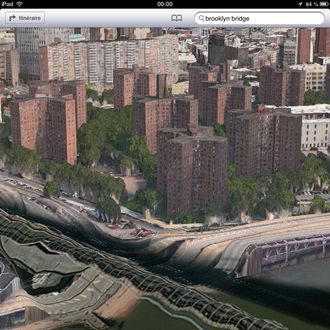 iPhone map or still from "Inception?"
The good news: Apple's new iOS 6 maps app has turn-by-turn directions, 3-D images, and for most trips, it's probably better than a 1977 road atlas.
The bad news: It has no built-in public-transportation option, messes up basically every destination, and might take you to a mobile home instead of a hospital if you're about to die.
Apple was undoubtedly trying to do a good thing by replacing Google's maps with its own app, which cobbles together data from more than a dozen outside providers. Going native allowed Apple to take more control of its interface, and — per Steve Jobs's "thermonuclear" strategy — engage in a bit of corporate warfare with Google. But in messing with a good thing, Apple prioritized its own aims over its users' experience — which is why, less than 24 hours after the iOS 6 release, there is already a Tumblr dedicated to its failings.
Still, even if Apple takes a while to fix the maps bug, the iPhone 5 will outsell every iPhone ever made, because it's Apple.
Until the inevitable update arrives, think of it this way: When you're late for a meeting, "Ugh, iOS 6 maps, you know how they are" is the greatest excuse since "Ugh, subway delays, you know how they are."