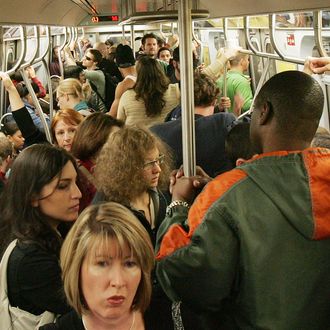 New Yorkers forced to invade each other's personal space.
Photo: Mario Tama/2005 Getty Images
A little over a year ago, Darnell Hardware of the Bronx was charged with masturbating on three young women on packed subway cars, including a 17-year-old high school student. The Daily News reports that at one point he might have been sentenced to up to seven years in prison, but thanks to a decision by the New York State Court of Appeals, he's been given only three years probation. The court ruled in March that so-called "subway grinders" can only be charged with felonies if they use force. Though prosecutors said that one of the victims "could feel what was happening but (was) powerless to move," rubbing against a woman to climax when she can't escape isn't sufficiently violent.
Last year a bill was introduced that would have allowed felony charges to be filed against someone with two prior convictions, but after passing the State Senate it failed in the Assembly. There are plans to introduce the legislation again this year, but in the meantime prosecutors say that since the court's decision dozens of subway perverts have escaped without jail time. Just something to ponder the next time you're on a lonely platform waiting for your train.